National fund $69.2m to NZ conservation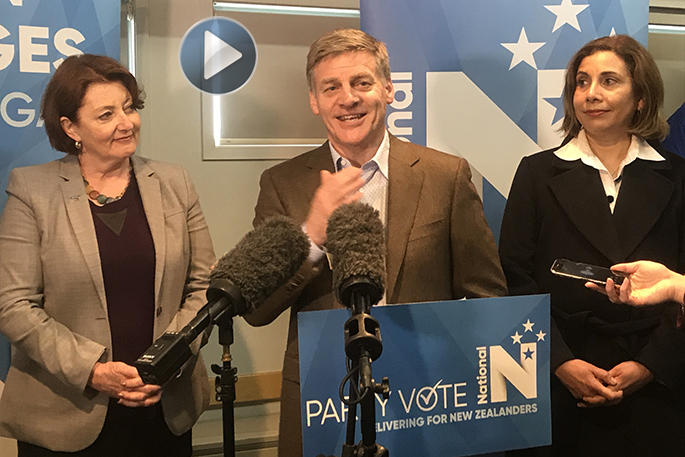 Click the image above to watch the video
New Zealand's leading pest programme will now receive $69.2 million over the next four years to achieve complete eradication by 2050.
Prime Minister Bill English, alongside MP's Maggie Barry, Todd Muller and Simon Bridges met with Bay locals to discuss their plans for conservation nationwide at the Mount Ocean Sports Club in Mount Maunganui this morning.
Bill English announced that pest eradication funding will be increased from $40 million to $69.2 million to speed up the process of Predator Free 2050.
The Predator-Free programme has the ambitious goal of protecting New Zealand's unique plants and animals by eradicating rats, stoats, and possums from New Zealand.
"The $69.2 million that the Prime Minister has announced will really turbo charge predator Free 2050 particularly for the community and volunteers groups," says National Party spokesperson for Conservation Maggie Barry.
"Here in the Bay of Plenty they are looking to restore Pukako bird populations and we have a very ambitious Wetland project, this fund will be very helpful for them."
National will provide $8 million over four years to the Department of Conservation to double the number of specialist rangers charged with supporting predator free community groups and more than $5.3 million to invest in upgrades of equipment, such as, traps and lures as new technologies are developed through Predator Free 2050.
"Eighteen months ago we set out the vision where we want New Zealand to be predator free by 2050 because that is what is going to enable our unique bird life to survive and prosper," says Bill English.
"That's why Predator Free 2050 is so important because our environmental values are at the core of our national brand, the core of our exporting success and at the core of what New Zealand is about."
Maggie says the further $21 million of new funding will meet the interim Predator Free target of 1 million hectares under sustained control by 2025, well ahead of schedule.
"The new funding means that the total government investment in Predator Free 2050 will climb to more than $24 million annually, or $97 million over four years. And that's before we add in the private sector and council contributions," she says.
"We have been absolutely thrilled with the enthusiasm of communities up and down the country about Predator Free since it was launched one year ago.
"Predator Free 2050 is our very best opportunity to protect our unique birds and animals for future generations. By combining the efforts of the government, the philanthropic sector and thousands of committed volunteers we are confident we can make great progress towards a Predator Free New Zealand by 2050."
More on SunLive...