Choir in full song for Gideons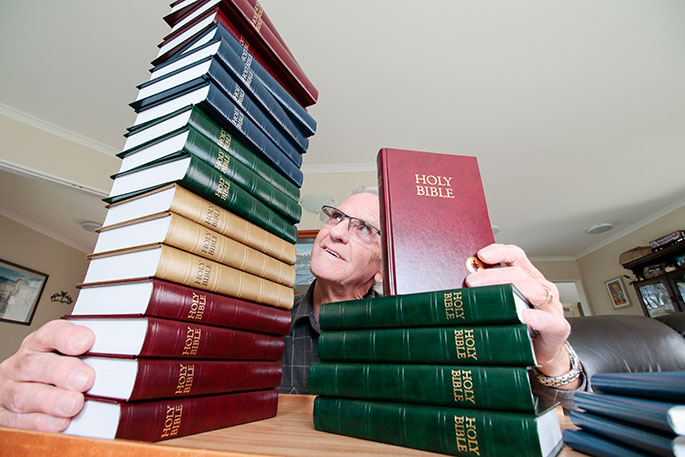 Click the image above to view slideshow
It's been a task of Biblical proportions which has consumed one Tauranga man for 40 years.
"Yeah, there's a bit of work going on that no-one knows about," says John Moore. The work is good work, and work that in some cases is saving lives.
Last year John and Gideons International, the evangelical Christian association, distributed about 6000 Bibles around the Bay of Plenty. That's a lot of scripture.
"Dropped 100 off to the police in Whakatane last week," says John. "They hand them out to the men they lock up for a day or so." But it's not just for the sacred texts. "They're special Bibles with a whole lot of practical help at the front – where to go and who to talk to if you have a problem – if you are feeling suicidal, depressed or discouraged."
This comes on the back of alarming new statistics released by the Chief Coroner this week. More than 600 Kiwis took their own life last year, up from 579 the previous year and 564 the year before.
John says there's anecdotal evidence that Gideons' work is helping some people who might have become a statistic. "We get a lot of positive responses to what we do," says John. "Like an Auckland boy who was contemplating suicide and while tidying his room discovered a Gideons Bible given him at College. He started reading." And because of the 'help' in the Gideons Bible the boy is still with us today.
And the Australian women who booked into a Timaru motel to end it all. "She was stopped after finding the Bible in her motel room and contacting someone." And many others according to John – people affected by relationship breakdowns, businesses going belly-up and people absolutely desperate. "We get a lot of messages from people who found help in a Gideons." Hundreds of positive responses, he says, from grateful Kiwis.
But 6000 Bibles in Bay of Plenty, 90,000 in New Zealand and 89 million a year worldwide costs money – even when they are pouring off the Gideons' own printing press in Nashville at just $2 a copy. "Very, very cheap – but it still needs paying for."
So the Bay of Plenty Men's Choir is presenting a fundraising gospel music afternoon at the Central Baptist Church on Sunday, September 10 between 2.30-4pm. Admission is free but there will be an offering taken for Gideons Bibles. "We just hope to raise funds to cover some Bibles."
And John will ensure those Bibles will find their way into prisons, police cells, rest homes, hotels, motels, schools, backpackers and refuges. Anywhere where people may find themselves alone with dark over-powering thoughts.
"And the trust in Whakatane that does work with expelled schoolkids – we work with them."
John is a retired businessman, ran his own mechanics shop. It enabled him to do his Gideons work.
With all those Bibles being distributed each year won't Gideons reach saturation point; won't the work be done one day? "No, if we could produce twice as many Bibles we would find homes for them." There's a growing need and John believes that's because the world is a worried place.
"Financial systems aren't secure, governments aren't secure. People are telling me the world is falling to bits and they want to know what's happening and who's in control. So having access to our Bibles helps."
Gideons International is named for an early Hebrew hero, a military leader, judge and prophet who defeated the Midianites. He was renowned for his humility, faith and obedience – traits which Gideons adhere to.
It all started with Bibles in the rooms of the Superior Hotel in Superior, Michigan. Since then they have distributed more than two billion Bibles.
Gideons also does work in schools and colleges. "I explain what we stand for, what we do," says John. "Then we offer them a Bible – they can take it or leave it. Most take one."
More on SunLive...