Tauriko housing development fast tracked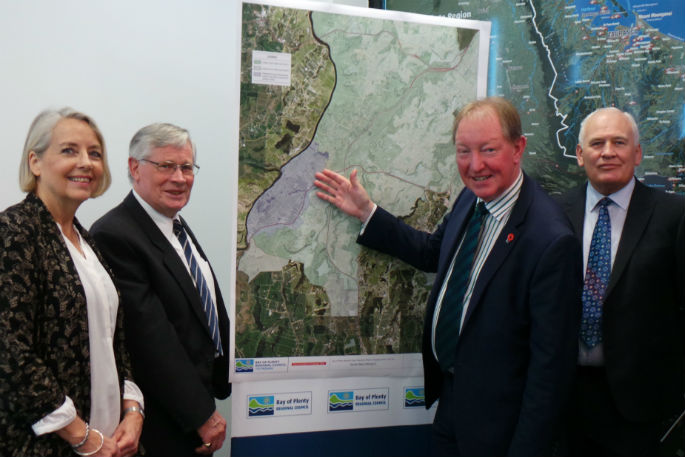 Nick Smith has given approval to fast track about 280 hectares from pasture to housing development at Tauriko West.
Tauranga City, Western Bay of Plenty District and Bay of Plenty Regional councils - have brought about the first use of a streamlined planning process to enable councils to keep up with the region's growth rate.
Nick announced the partners' success at the Bay of Plenty Regional Council office in Tauranga yesterday.
It's the first application under the changed Resource Management Act to use the new streamlined planning process, for a significant plan change for addressing the growth pressures on the region, says Nick.
Special Housing Areas were designed as a temporary mechanism to 'just get some stuff done', while the government made more substantive changes to the Resource Management Act.
"To the credit of the regional council and constituency councils, they have applied to me for consent to use the streamlined process over land at Tauriko West," says Nick.
"The significance of the streamlined process is that it will enable the Regional Policy Statement to be changed in a period of months as compared with the normal process of years.
"It does not provide for appeals, but the council is proposing a full process of consultation and hearings.
"The key driver for this application is that the councils have collectively determined that there is insufficient land for the scale of growth for residential housing.
There are whole lot of mechanisms in place.
The 280ha is the grey area above SH29 in red. Photo: Supplied.
The development follows the urban development national policy statement the government put in place last November.
"What that did is that it requires councils to give a lot more analysis into ensuring they are freeing up land, so we don't end up with a scenario like Auckland with sections costing half a million each."
As a consequence of applying that through SmartGrowth the councils concluded they did not have sufficient capacity and the regional council determined to use the streamlined process.
The 280ha has the potential for about 3000 homes, but the Ministerial approval requires things to be put in train.
"Firstly the Regional Policy Statement has to change," says Nick.
"Second, land has to be re-zoned; thirdly there needs to be the infrastructure to support it and this will take some time. But we need to get the first bit done. This is the change to the Regional Policy Statement."
The land is also likely to be transferred over to Tauranga City from the Western Bay of Plenty district.
"Parliament currently has a local government amendment bill to enable that to occur more quickly than under the quite cumbersome process at the moment. It too will be an issue on the agenda following consideration of the Regional Policy Statement plan change."
More on SunLive...