Will-o'-the wisp heads celebrity line-up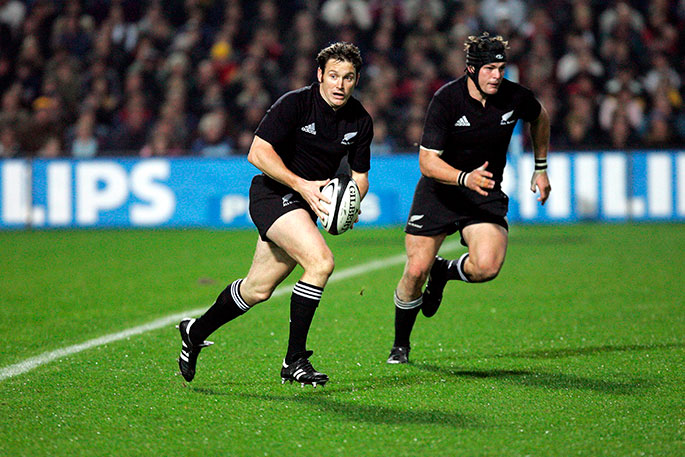 Click the image above to view slideshow
By his own admission, he is a wonderful tonic for someone else's self-esteem issues.
"If you ever thought All Blacks were superhuman, think again," says the former test first five. And one Colin Meads reckons was the best ever in the game.
"Yeah, come along and feel a lot better about yourself by comparing you to Andrew Mehrtens."
He's pitching his upcoming celebrity appearance at the Tauranga Gala Dinner at ASB Baypark Arena on Friday, September 29.
Billed as a five star event, Mehrtens will happily drag it back a star or two with his irreverence and then pump it up again with oodles of wit and humour.
"If you want to feel better-looking, smarter and funnier than an All Black of the past then come and see me and I will be able to achieve that for you."
It's Mehrten's trademark. "I like having a crack at myself and so in terms of some of the egos you see at play around the traps, then I am something of a rarity I would think." We all love humility – especially in the man acclaimed as the world's best ever first five. And who would question the Pinetree?
"It's a chance to have a bit of a yarn, poke the stick at a few people and get some views out there – we get stuck into anything and everything."
We had another insight into the man who will 'wing it' at the Tauranga Gala Dinner – 'wing it' because that's his style.
SunLive had been trying to contact him for two days for a pre-arranged chat.
"Sorry, sorry, sorry," says the genuinely 'sorry' Merhtens. "I don't mean to be a dick, but I am bloody good at it."
That's his charm. And that's why Tauranga people have been prepared to pay between $1250 and $2900 a table to hear Mehrtens 'wing it'.
"You don't think your stories are any more interesting than anyone else's," says Mehrtens.
"Being on a rugby tour is very much like being on a school camp – same old banter, same old abuse that gets flung at the same old people. The only thing that changes is people find stories more interesting because they're about Christian Cullen and Michael Jones."
And stories about Andrew Mehrtens.
Like the time he dropped a last minute game-winning drop goal against the Bulls in the rarified atmosphere of Loftus Versfeld, then turned and gave the fingers to the crowd. A timeless moment.
"That'll certainly come up - reliving it myself and giving people an insight into what it felt like rather than what it looked like on television."
We can imagine what it felt like? Flicking a bird, two birds, a whole flock of birds, to a stadium chocka full of baying prime Pretoria beef.
"In saying that, I still can't explain it. I certainly can't justify it, but I will certainly try to give a good account of myself."
That's what we want to listen to – an impulsive, self-deprecating and ever-so-slightly flawed former All Black being mischievous and irreverent while in the gaze of the rugby world. Worth the admission fee to the gala dinner in itself.
Then there was the infamous, numbing, shameful day when Joel Stransky (three penalties and two drop goals) beat Andrew Mehrtens (three penalties and one drop goal) to snaffle the 1995 World Cup.
Things soured even further off the field – the "first TRUE world champions" claimed South African rugby impresario Louis Luyt.
And there was 'Suzie' and the food poisoning allegations. Plenty of meat left on those bones for Andrew Mehrtens at the gala dinner.
"That invariably comes up and particularly games and players you have toured with."
Then Mehrtens shows a soft, sensitive underbelly as he delivers a life lesson. "I always meant to go down to Te Kuiti and catch up. I didn't get to do that. I lost an opportunity. I regret that."
Mehrtens is talking about Pinetree. "He was my first All Black manager. And he was a guy, for whatever reason, who took a liking to me."
The 102 kilogram, near two-metre lock, a big, brusque, beer-drinking on-field enforcer and the cheeky 89 kilogram 1.7 metre will-o'-the wisp fly half – an unlikely union.
"I think because we were complete opposites and I couldn't and wouldn't threaten him in any way physically. He had a protective feeling towards me to be honest. He was fantastic."
And when the Pinetree toppled, Mehrtens was gutted.
"He had lost his battle. And it showed that anybody, regardless of how tough they are, can get cut down."
Nothing surer, there will be more deep feelings from Mehrtens on Meads at the Tauranga gala dinner. And stories.
Like Pinetree Mead's huge hands which Mehrtens believes were designed by nature to hold a beer handle.
"Whenever those hands were placed on a bar, all the handles in the vicinity started trembling and were sucked magnetically into his hands."
And a larger-than-life figure who quickly become human because he chatted to anyone.
It's a little-known, if forgotten fact that the 66-test cap All Black and 108-game Cantabrian actually played for the Bay of Plenty.
"I am going to say 1997." And it was the only other union he ever played for.
And when he returns to Tauranga it will be almost apologetically.
"I played one of the worst games of my career. I was absolutely awful and I was embarrassed."
Mehrtens had been nursing a hamstring injury. BOP was short of a first five and so coach Gordon Titjiens called All Black coach John Hart and said if Mehrtens was short of match practice then he could have an outing for the blue and golds.
"I was thankful for the opportunity and immensely proud to pull on the blue and gold." Proud, but awful.
"Caleb Ralph was at centre and I threw him about five different hospital passes."
And Mehrtens played his 100th game for Canterbury against Bay of Plenty.
There's a connection here and it's about to be renewed at the Tauranga Gala Dinner when 'Mehrts' joins fellow All Black Frank Bunce and rugby pundits Scotty Stevenson and John McBeth on the couch to talk rugby over an entertaining dinner and drinks.
The event is also giving an opportunity to CanTeen to raise funds through a charity auction to help their cause of supporting young New Zealanders living with cancer.
"I don't have any business meeting scheduled for 10 o'clock that night so I will sticking around for a chat."
That's a style Mehrtens probably learned off mentor Pinetree.
For information on the dinner and tickets go to www.taurangagaladinner.co.nz
More on SunLive...