Molly and Alex take early lead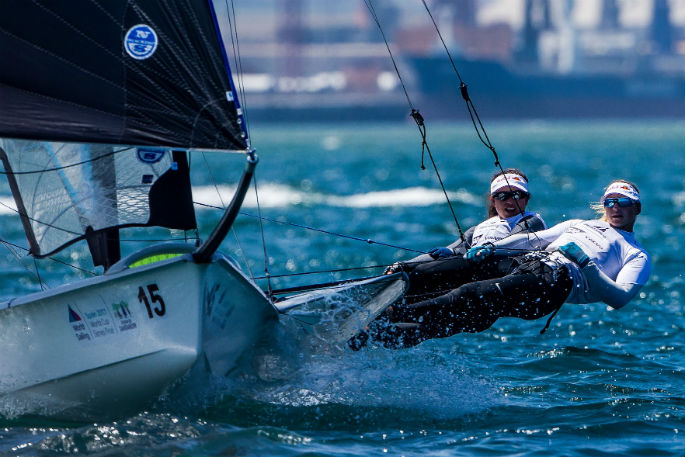 Alex Maloney and Tauranga sailor Molly Meech brushed aside two days of waiting around to take an early lead at the 49er and 49erFX world championships in Porto overnight (NZ time).
Racing wasn't possible on the first two days of the world championships with fog and light winds along the Portuguese coast. The sailors spent plenty of time waiting for the fog to clear on day three as well, but they finally got out on the water in the middle of the afternoon.
Only two of the four scheduled races were possible in the women's 49erFX fleet, with Alex and Molly posting a third and a first to sit one point ahead of the German combination of Victoria Jurczok and Anika Lorenz.
Fellow Kiwis Erica Dawson and Kate Stewart started well with a fourth in the first race but backed it up with a 30th and are 33rd overall.
"The delays were long but I guess it's part of our sport," says Molly. "But after two days of not sailing, it felt really good to get back on the water and into some racing.
"We had a good day with two really nice races. The breeze is looking really nice for tomorrow so hopefully we are all on time and can get out there and have some fun."
Winds of around 10-15 knots are forecast tonight (NZ time) with four races scheduled for both the 49er and 49erFX fleets.
The men's fleet has a distinctly different look to it than previous years without Peter Burling and Blair Tuke and Australians Nathan Outeridge and Iain Jensen. Those two combinations have won seven of the past eight world titles, with Tauranga sailor Peter Burling and Blair Tuke winning the last four.
Josh Porebski and Tauranga sailor Trent Rippey are New Zealand's top 49er combination in the absence of Burling and Tuke, who are preparing for the upcoming Volvo Ocean Race, and are seventh after the first day.
They finished eighth, third and fourth in the day's three races and are only six points behind the leaders, James Peters and Fynn Sterritt from Great Britain.
"The day went pretty well for us," says Josh. "Hopefully we get some good breeze tomorrow.
"The first race was pretty light - 7-8 knots - and we had a tough lane off the start line and finished eighth. The next races we got good lanes and had good speed.
"We have a shortened schedule because we missed two days of racing so it's really important to keep getting good scores. If we can do what we did today and keep in contention we will be pretty happy. Our goal is to keep it simple and take it race by race."
Isaac McHaride and William McKenzie were well placed in 15th after an eighth, fourth and 11th in their three races.
Results and standings from the 49er world championships in Porto overnight (NZ time):
49er (81 boats)
1st: James Peters / Fynn Sterritt (GBR) 2 2 5 - 9 points
2nd: Justus Schmidt / Max Boehme (GER) 4 3 2 - 9 pts
3rd: Erik Heil / Thomas Ploessel (GER) 7 1 2 - 10 pts
7th: Josh Porebski / Trent Rippey (NZL) 8 3 4 - 15 pts
15th: Isaac McHardie / William McKenzie 8 4 11 - 23 pts
49erFX (56 boats)
1st: Alex Maloney / Molly Meech (NZL) 3 1 - 4 points
2nd: Victoria Jurczok / Anika Lorenz (GER) 3 2 - 5 pts
3rd: Noora Ruskola / Mikaela Wulff (FIN) 1 5 - 6 pts
33rd: Erica Dawson / Kate Stewart (NZL) 4 30 - 34 pts
More on SunLive...