City block on offer for developers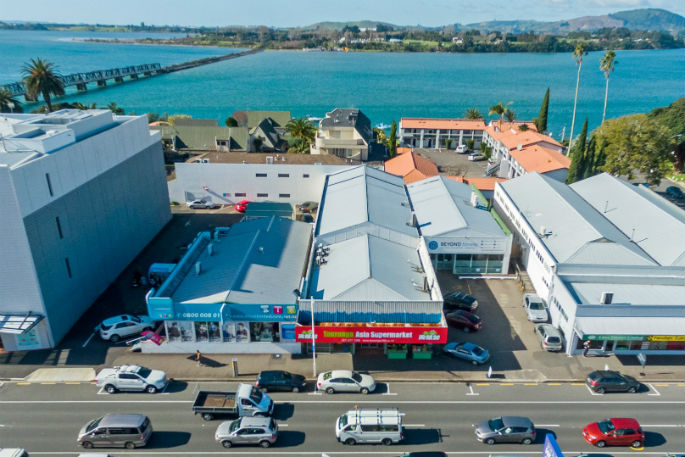 A Devonport Road site on the market is being promoted as the next redevelopment site for an expanding central business district.
Bayleys Tauranga salesperson Lloyd Davidson expects the property, between 1st and 2nd Aves, will most likely be bought as development proposition – sustained in the short to medium-term as a fully-tenanted investment while planning consents and approvals are acquired to deliver a new entity.
"The council city centre zoning allows for the potential development of buildings through intensification of use up to a 16 metre height - which for this location could sustain a mixed-use scenario with retail operations continuing on the streel level, and either commercial premises or residential dwellings on the upper floors," says Lloyd.
"Under the development scenario, any apartments built on the eastern portion of this block would have unobstructed views of the inner-harbour, while occupants and tenants would enjoy easy access to the heart of the city – a core theme of the city centre zoning."
The freehold land and single-storey buildings within the block at 160 – 168 Devonport Road are being marketed for sale by tender through Bayleys Tauranga. Tenders close at 4pm on September 14 unless sold prior.
The land is zoned city centre business.
The flat countered site at 160 – 168 of 2,019 square metres is currently occupied by three commercial tenancies.
Imported ethnic foods retailer Tauranga Asia Supermarket occupies about 571 square metres of space on a lease running through to 2022 with the potential for rights of renewal.
Life Unlimited Charitable Trust occupies 385 square metres of space on a lease currently running through to June next year with a further three-year right of renewal.
Gym operator Beyond Fitness occupies approximately 205 square metres of space on a lease running through to May next year, with three further three-year rights of renewal.
Current combined annual rental income is $138,500 +GST.
The site is the latest real estate venture in Tauranga to be put forward for major redevelopment under a new use format to reflect the changing demands of the city, its users, and residents, says Lloyd.
"Tauranga Council's city centre zoning is designed to maintain and enhance the role and function of the central business district as a commercial, retail and civic hub," says Lloyd.
Other such locations and redevelopment projects announced over the past two years include:
• The $90 million Waikato University campus in Durham Street encompassing a 12,000 square metre student hostel.

• Two levels of new commercial office space and a street level array of new hospitality operations within the 4,000 square metre premises known as The Reserve in Harrington Street – due for completion in the first quarter of 2018

• Three floors of new commercial office space and a street level array of restaurants and bars within the 950 square metre Fifty One The Strand development on The Strand, also due for completion in the first quarter of 2018
and
• The Westpac Building at 2 Devonport Road is currently undergoing due diligence for a proposed $50 million re-development, to including premium retail sites at ground level, office space through the middle floors, and high end apartments on the top floors.
The Life Unlimited portion of the Devonport Road property includes 18 car parks. As well as the main administrative and retail building facing onto Devonport Road, Life Unlimited also utilises a 22 square metre transportable office at the back of the property.
The Tauranga Asia Supermarket business has four allocated car parks, and Beyond Fitness gym has two car parks for clients attending the business's various free weights, box-fit, pilates and physiotherapy sessions.
More on SunLive...