Funding to help wandering people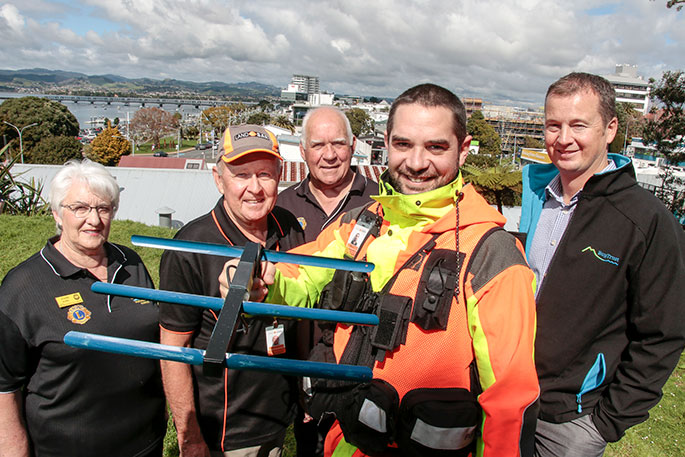 More than $7000 has been donated by Tauranga organisations to help fund a programme designed to assist families affected by dementia and autism.
Wandersearch is a system which is used by the Tauranga LandSAR to help find patients with dementia-related illness who frequently wander from their place of residence.
It's a nationwide initiative run and administered by Land Search and Rescue Groups, in close co-operation with NZ Police.
Funding for this system in Tauranga has recently been provided by Bay Trust who have donated $3500, Tauranga City Sunrise Lions Club who donated $3000 and Mount Maunganui and District Lioness Club who have donated $900.
Tauranga LandSAR chairman Nic Hume says they're extremely grateful for the funding, which has helped cover many essential costs.
"All of the funding we get to pay for this programme is by donations – either by family members or we approach other groups such as the Lions club or Bay Trust to try and get funding – so until now we've only been able to afford a small amount of the pendants.
"The funding we've received has given the programme a big push and now we can try and push some more out into the community."
Each client in the programme is given a tracking device to wear which can be a keyring, pendant or wrist device and can also be sewn into their clothing.
The device emits a pulse which is detected using a radio tracking unit and a directional finding aerial. As the tracking unit approaches the pendant or watch, the stronger the pulse will be.
Around nine people currently have Wandersearch pendants and with provided funding, LandSAR now has the ability to give 20 more out, says Nic.
"The biggest benefit of the programme is the speed in which it allows us to find people when they are missing."
"Without the pendants if we have a missing person's case for someone with dementia it might take somewhere between six and twelve hours to find them, whereas this gets it down to forty minutes."
"We have three of these receiver units that are kept at police stations in Greerton, Tauranga and Papamoa which allows us quick access and also multiple units help us isolate the pendants location faster."
BayTrust Chief Executive, Alastair Rhodes says the programme provides a valuable contribution to the community.
"BayTrust's vision is that the Bay of Plenty is the greatest place to be, and we know that feeling safe within communities is necessary to personal wellbeing and enjoyment of our natural resources."
"A service that provides peace of mind for families and an additional level of safety for those suffering from Alzheimers or Dementia fits really well with our Safe Communities Outcome area," says Alastair.
A husband of one woman who is a part of the programme, who did not wish to be named, says he discovered the Wandersearch programme when his wife went missing earlier this year.
"My wife is an Alzheimer's sufferer," he says.
"We live in an area of orchards, both kiwifruit and avocados, so it is very difficult to see from the road or orchard tracks where anyone might be."
"As we could not find her we contacted the Police who were here very quickly and they called in search and rescue."
"They spread out across the neighbouring orchards and with the help of a dog, found her fallen down a bank, luckily unhurt."
He says after this incident, Police then recommended the Wandersearch pendants.
"These are provided by search and rescue and she now has one," he says.
"So if she goes missing again we simply ring the police saying she is wearing a Wander pendant, who contact LandSAR and they can triangulate onto her pendant, finding her within a few meters."
"She hasn't gone missing since but as you can imagine, it gives us all great peace of mind to know it is there and she can be found quickly."
Wandersearch tracking units are held at police stations and Tauranga LandSAR, and uses a simple radio frequency.
The programme was developed by Canterbury's Ian Trethowen, and made in Waipara, North Canterbury.
Those wanting to enter the programme must first contact Tauranga LandSAR where they will be assessed, to see whether it is suitable.
"If anyone out in our community has a family member who has been diagnosed with Alzheimers or Dementia and have proven to have wandering tendancies then they may qualify for the benefits the pendants can give," says Nic.
"Generally Police recommend people onto the programme where they have filed a missing person's case related to dementia related illnesses."
An application for a pendant can be made to taurangawandersearch@gmail.com
More on SunLive...