Police hunt gunman who fired on officers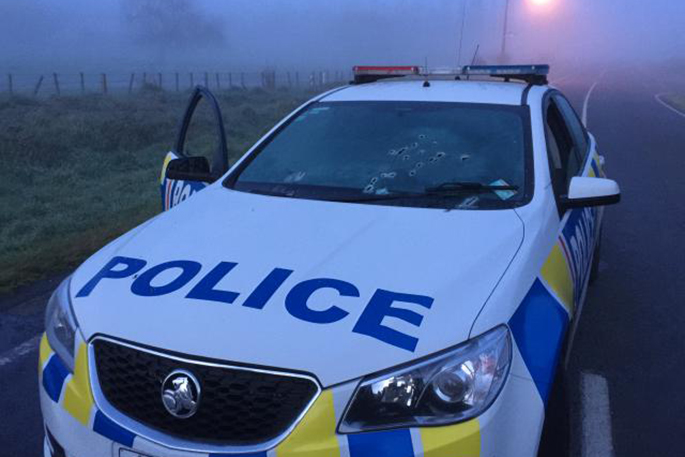 Click the image above to view slideshow
A manhunt is on for the gunman who shot at police following a pursuit in the Waikato last night.
At around midnight a police officer observed a vehicle travelling at speed on Avenue Road in Morrinsville.
The driver failed to stop when signaled and a pursuit was initiated, with the vehicle eventually pulling over on Kuranui Road, near Scott Road.
The driver got out of the car and began firing at the pursuing officer with what police believe to be a military style, semi-automatic weapon.
The officer took cover in nearby farmland and called for back-up.
The offender continued to shoot at a second police patrol vehicle that arrived shortly after.
The two officers in the second vehicle returned fire at the offender before also taking cover. The area was quickly cordoned off and the Waikato Armed Offenders Squad arrived to safely retrieve the three staff from the area.
None of them were physically injured.
Waikato District Commander Superintendent Bruce Bird says following enquiries this morning, police have located and are speaking to two occupants of the vehicle, a man and a woman, who are assisting with the investigation.
"At this stage we believe there was one other male in the vehicle, believed to be the gunman, and we have a team of approximately 30 people, including AOS staff, working to locate him.
"We would like to hear from anyone with information relating to the offending vehicle: a red, 2015 Holden Commodore, registration 1AZIF1."
The offending vehicle, a 2015 Holden Commodore.
Bruce says a scene examination is also underway and will form part of the investigation.
"I would like to commend the attending officers for their bravery in what was a fast moving and dangerous situation.
"Police work tirelessly to keep our communities safe and acts of violence like this against our officers are unacceptable.
"We take the safety of our staff seriously and will continue to investigate this incident to hold those responsible to account."
He adds police are continuing to offer support to the officers and their families at this time.
"I would also like to thank the Morrinsville community for their cooperation and the information they have provided so far. We acknowledge that incidents like this are frightening and I can assure the public police are doing everything we can to resolve this.
"Police advice to the community at this time is to be vigilant and to report anything suspicious immediately.
"Our focus right now is on locating the outstanding offender and we would like to hear from anyone with information that may assist our investigation."
Information can be reported to Waikato Police on (07) 858 6200 or reported anonymously via Crimestoppers on 0800 555 111.
More on SunLive...