Country Calendar meets Master Chef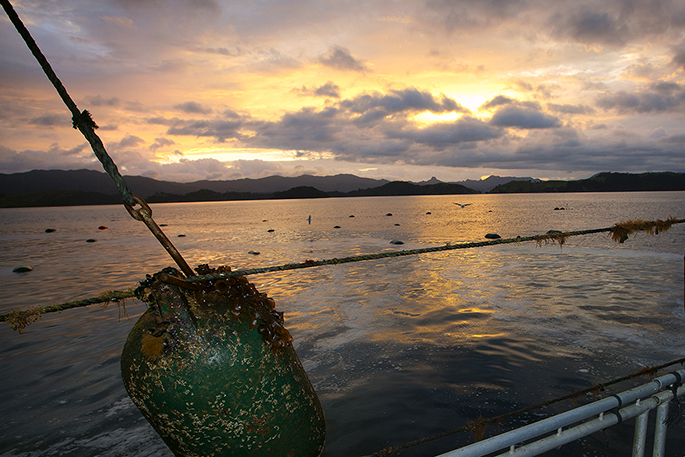 Click the image above to view slideshow
It's been described as "Country Calendar meets Master Chef", which is a way of saying Gerhard and Henrietta Egger's book 'Source New Zealand' not only tells the stories behind New Zealand produced foods, but also how to cook and enjoy them.
The Rotorua couple are 'foodies' who travelled the country visiting those who farm, grow and harvest some of this country's finest foods, illustrating their stories with Gerhard's stunning photos.
The hardback, beautifully presented book tells the stories, in six chapters, of food produced from the ocean, the paddock, the dairy, lakes and rivers, the land and by tangata whenua.
Each chapter is referenced with a map showing the location of a food producer, and their stories are told in an engaging style capturing the personalities of those involved, as well as providing facts about their ventures.
Harvesting mussel spat from Aotea Harbour on the North Island's west coast, and growing green lipped mussels in the Coromandel Harbour, which bring an insight into the mussel industry, are among the stories.
Also featured are Jono and Sara Walker of Soggy Bottom Holdings near Ngaruawahia, who raise heritage breeds. The book aims, says Gerhart and Henri, to bridge the gap between populations in the cities and those on the land.
"Many have become removed from the source of where their food comes from," they say.
Gerhard and Henri believe the concept of 'good food' starts with the people who are passionate about producing it. Good food is also about working with, and caring for, our environment; and about handling and cooking the produce with respect. "Good food is very much about enjoying and sharing the experience with others."
The book is also a wonderful promotion of New Zealand food at its best, and as such will have wide appeal to overseas visitors.
Featured are long line fishing, Pacific Rock Oysters, crayfish, Bluff Oysters, sheep and beef farming, free-range eggs, red deer, including deer kept for milking, pig farming, free-range game, water buffalo, dairy goats, biodynamic farming, farming milking sheep, whitebait, Waikato eels, salmon farming, fresh water crayfish, truffles, kiwifruit, honey, olives, wild mushrooms and nuts.
Harvesting food from the native bush, cooking in a hangi, making rewena bread and harvesting mutton birds feature in the tangata whenua chapters.
What follows are recipes for using the best of produce, once again illustrated with Gerhard's photos.
'Source New Zealand' is available in book stores and from the book's website.
More on SunLive...