Trustpower manager's work recognised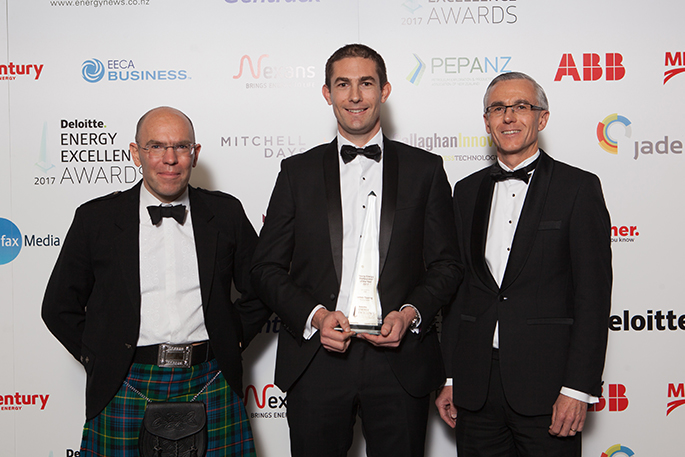 Click the image above to view slideshow
A Tauranga-based Trustpower manager has been announced the Young Energy Professional of the Year at the 2017 Deloitte Energy Excellence Awards.
Manager of strategy and regulation Dr James Tipping received the award for his stand out work and achievements in New Zealand's electricity market.
James's story is one of consistent achievement over an already wide and varied 15-year career in the energy sector, punctuated by a number of key successes.
James began his career in 2002 with pioneering PhD research into New Zealand's electricity market.
From 2006 to 2009 he expanded his skills and experience as an international energy consultant in London, before returning to New Zealand and joining Trustpower.
He now leads Trustpower's strategy development, investment analysis and regulatory affairs across energy and telecommunications.
Trustpower's Chief Executive Vince Hawksworth says James has developed into one of New Zealand's most well-known, well-liked and influential young energy leaders.
"In a changing world, we often focus on the need to do things differently externally: For example looking at new products, new technologies, and new markets," he says.
"James's contribution to Trustpower has included his ongoing recognition that the application of this concept is equally important to the way we do things internally."
A standout example of the changes James has made to the strategy development function in Trustpower is the way he is progressively evolving the company's internal processes to engage employees at every level of the business.
The judges were impressed with the profile that James has already created for himself at Trustpower and externally through sector-wide initiatives, and commended his ability to transition from completing a PhD to working in a commercial and technical role.
They regard him as 'someone who will be a key player in the sector's future".
Some of James' highlights include:
• Increasing company-wide engagement in Trustpower's strategy

• Forming and leading an industry working group on energy vulnerability, resulting in 12 electricity retailer CEOs agreeing to measures to improve outcomes for their most vulnerable customers; and

• Positively influencing significant national regulatory work streams
The Young Energy Professional of the Year is awarded to the standout professional aged under 40 in the New Zealand energy sector, defined by their achievements in the past 12 months and/or the culmination of their achievements in their career to date.
The awards ceremony was held at the Langham in Auckland on Wednesday, August 9.
More on SunLive...