Enjoying the fruits of their labour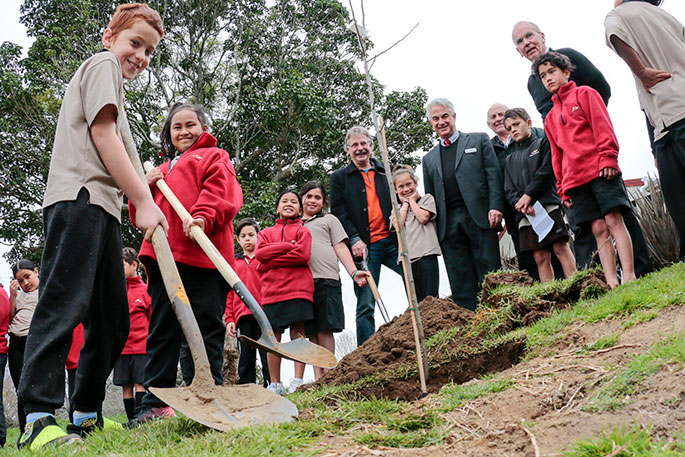 Gate Pa Primary School students will taste the fruits of their labour soon.
And by soon, we mean in a few years probably.
The primary school was recently visited by Donor's Choice Charitable Trust; originally a US organisation that was transplanted in Tauranga, and in New Zealand, by local Trade Education employment specialist Ken Knott.
Ken and others at Donor's Choice, along with mayor Greg Brownless, visited Gate Pa Primary School and donated $400 worth of fruit trees.
The kids were involved in the whole process, says Ken, and quite happily got their hands dirty.
"It went really well. The kids had their spades and they were filling in the holes, with each class coming out and planting a tree. It wasn't a case of we bring the trees and the school's caretaker chucks them in the holes. The school was getting each class to pick a tree and plant it."
Gate Pa Primary School principal Richard Inder says the trees are a great learning tool for pupils.
"It's going to be a great little resource in our school, and for our community. It's a resource that is going to be useful as far as teaching; how you look after fruit trees, how to prune them, what they crop, and where these things come from. So often many of the children don't know the process from growing to actual fruit.
"They asked us what sort of trees we wanted. We picked a selection of fruit trees – apple, persimmon, peach, plum, a variety, and they're all planted in the ground by the kids. Each class has a tree that they will be 'guardians' for."
Ken says he loves the attitude at Gate Pa Primary School. "They've already got their vegetable garden, and they've got mountain bikes and a mountain bike trail that they've put in, so they've got healthy exercise, healthy nutrition and the whole thing from growing the tree to food on the table. It was just awesome to see.
"I'd talked to half a dozen schools and they were the first ones to put their hands up. I've been talking to a couple of other schools and I know there are others that are keen for when we've got a bit more funding."
Ken says ideally Donor's Choice, which is a trust that focuses on helping local students achieve projects by helping with funding, will reach schools nationwide.
"Being a local charity our focus is teacher-student projects, so this was our next project," says Ken.
"We're just trying to work through every school; ultimately, nationally."
And Gate Pa Primary School was just one of the many they want to visit.
"They've got an ideal area that they've set aside for an orchard so it's going to work very well for generations."
More on SunLive...