CrossFitters take on the Aussies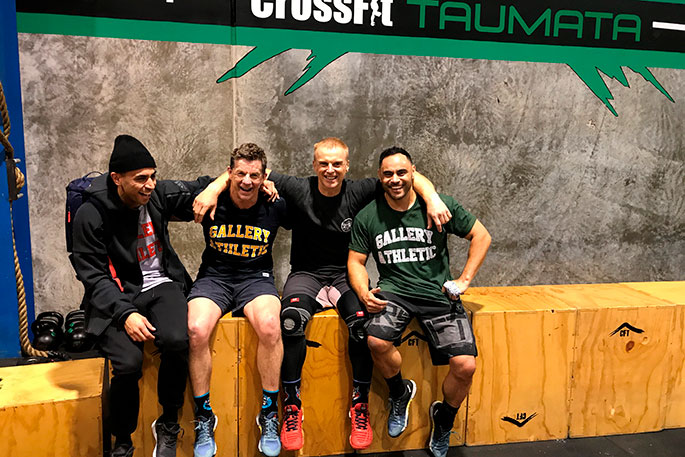 Three Tauranga gym enthusiasts will be sweating up a storm to beat Australia in a Masters CrossFit competition.
Kim Hawke, Brodie Lawrence and Tim Paton-Tapsell all ranked high in the regional CrossFit competition and will represent New Zealand in the Australasian Master CrossFit competition in October.
What started out as a friendly online challenge to get them through winter resulted in a top five finish in New Zealand and top 10 finish in Australia.
Kim says entering the regional competition was a spur-of-the-moment thing and an ambitious goal.
"Tim said one day that it would be good to have a goal over the winter to maintain our fitness and Hale (their coach) noticed an Australasian master competition online and we thought we would give it a go."
After they signed up, they were given a new online workout and the team would have a week to master the exercise before they would post their results up on the Friday.
Kim says each week the workouts got more intense, but they found their fitness improved significantly.
"We were always sort of up there in the top three or four, and lo and behold, after the fourth week we found that we were all one or two in our age group divisions and we were then invited to the regional competition."
Tim says getting into the regionals was a personal sporting achievement and he was stoked to have his mates alongside him.
"We entered the competition just to do something different, hoping to increase our fitness a little. As it went on and we qualified for our region and then New Zealand we were all blown away," says Tim.
Brodie says he initially didn't want to travel to the Gold Coast, but his competitive juices kicked in.
"I really only wanted to do this for fun with a bunch of good mates that have something in common, and that's keeping fit and healthy with a touch of competitive madness. Representing New Zealand will be an honour with my mates."
The competitions are a full day and usually include four different workouts that range around different movements, such as pull-ups, push-ups, body weight movement and kettlebell raises.
The judges look at their speed and technique in each workout to give them an overall score.
The Australasian Master CrossFit competition will test them even further, with new elements like swimming and running, which they didn't do in the regional competition.
All the members of the team say they love CrossFit because it keeps them fit, but also because it pushes them to the absolute limits.
Each morning they write on the white board an ambitious workout that they have to complete and by the end of it Kim says they will be sweating profusely.
"All of the boys have said you go into a real dark place when you exercise. It's just a place of total focus and you're in such a high level of movement and breathing that your focus is super sharp and accurate. Even though you're absolutely fatigued, you still just battle through," says Kim.
"It's not actually a competition trying to beat the other guy in the end, it's actually a competition against yourself."
Kim, Brodie and Tim are training every morning alongside Gallery Athletic managing director and coach Hale Lawrence to get up to speed with the Australians.
"Last year the Aussies dominated. This year it's up to us to make sure Kiwis come out on top, or at the very least close the gap considerably," says Tim.
The team will be participating in different age divisions; Kim over 50, Brodie over 40 and Tim over 30. All workouts are slightly different depending on the age division.
The competition will be held at the Runway Bay Sports Stadium on the Gold Coast on October 13-14.
More on SunLive...