What's on Today: Careers showcase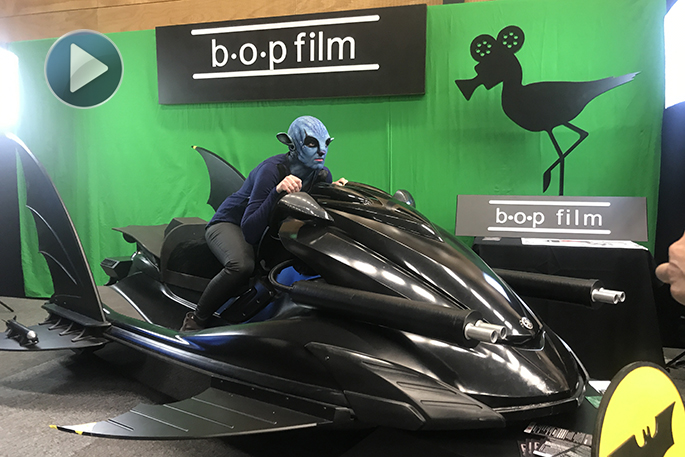 Canvas Tauranga Careers Showcase - ASB Arena 2017 from Sun Live on Vimeo.
The Canvas Careers Showcase, which has been helping students and job seekers find their passion, is on for the last day today at the ASB Baypark Arena.
The showcase gives students and job seekers the chance to speak face-to-face with real people from businesses and tertiary institutions across Tauranga and the Western Bay of Plenty.
Event Manager Sally Cooke says this year's showcase is highly visual and interactive.
"These days it's about engaging with the students and getting them inspired and energised -and it's all about finding their passion."
"The exhibitors are the same, they are very passionate, because they want to engage with these students and to help them shape their blank canvas of a career."
Sally says the event brings people from all over because there is no other careers showcase quite like this one.
"It's seen as quite a unique careers showcase because we've got that industry profile as well, not just the tertiary and training providers -we've got industry sector and business showcasing."
"The students can not only see some amazing careers in action, but an also walk across the arena to the training providers that will help them get there."
As future jobs are changing and different skills are required, Sally says the event each is always slightly different.
"A lot of the showcase is about letting the students understand that it's about having transferable skills and keeping their options open, like this year when they first come in there's an opportunity for them to identify whether they know what they want to do, they're not sure or they have no idea.
"So it's a really nice way to inspire them and engage them and let them see that even if they don't know exactly what they want to do yet, this is a good way to see the options that they can get."
On Friday thousands of students as well as members of the public attended the event.
A key feature of this year's event is the 'I Can Be…' Inspiration Stage. Through bi-hourly talks, speakers will give their first-hand accounts of what skills are required for a career in their field in addition to sharing tips on getting your foot in the door.
One such speaker is Page Macrae Engineering representative, Logan Taylor, who will discuss his mechanical engineering apprenticeship. "Over time Page Macrae Engineering have produced some of the highest achievers in the trade," says apprentice training coordinator Grant Holland. "At Canvas we're excited to show you what we do, how we do it and let you get hands-on with some displays and challenges."
Bay of Plenty Film's general manager, Anton Steel, will also speak on the Inspiration Stage to share his story of establishing BOP Film and his vision to turn the region into a film maker's haven. He will give tips on what it takes to get involved in Tauranga's growing film production industry.
"Creating pathways for Bay of Plenty youth into this lucrative industry is a large part of our vision," says Anton. "This is a boom time worldwide in terms of digital content creation, and the youth of today are more digitally connected than anyone, so we want to see the Bay become one of the world leaders in this space."
To further engage with students, visitors to Canvas Careers Showcase are invited to download the event app, which allows them to connect with exhibitors, navigate the event with ease and access a schedule of what is on when. Anyone who downloads the app goes in the draw to win a Samsung Galaxy tablet.
Some of the exhibitors at the event are: Affco, BCITO-Building, Face and Beauty Academy, NZ Defence Recruiting, NZ Institute of Sport, NZ Kiwifruit Growers, NZ School of Radio, NZ School of Tourism, SonaSafe, Staples Rodway, The Edge, Tauranga Electoral Office.
The event is sponsored by the Rotary Club of Tauranga and Priority One. Visit www.canvascareers.co.nz for more information.
General Manager at House of Science Carl Acton and Rose Bruning age 13.
Cameron Baker and Katy McGinity at the NZ Kiwifruit Growers stand.
Alfred Shum and Lakhvir Singh having their hair cut by Katrina Pyle and Nate Hohaia from Hair to Train (Havana Barbers), and Keisha McDonald on far right.
Rex Fairweather and Melissa Kellett from the University of Waikato Coastal Marine Field Station.
More on SunLive...