Ella spikes high in Volleyball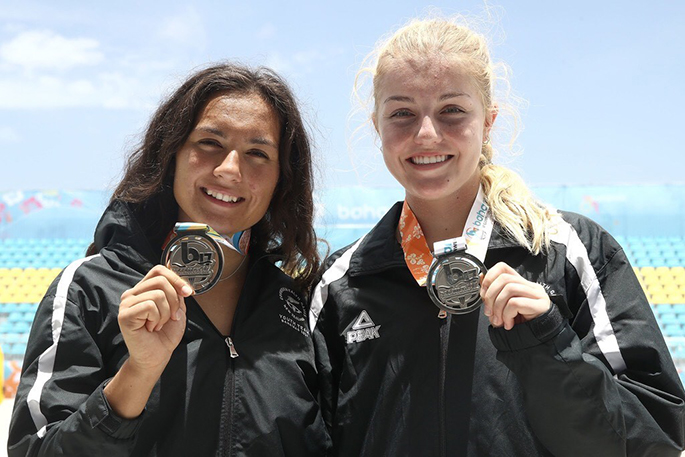 A Tauranga student came home with a silver medal for her efforts at the beach volleyball Commonwealth Youth Games.
Tauranga Aquinas College student Ella Akkerman, 17, who partnered with Rangitoto College student Jasmine Milton, came second place overall in the Bahamas women's doubles under 17 Commonwealth Games.
They played and won all three pool games 2-0 against Saint Lucia, Rwanda and Trinidad and Tobago.
In the quarter finals they were up against the second seeds, England, winning 2-1, 21 – 16, 11 – 21, 15 – 11, and in the semi-finals they played Scotland winning 2–0, 21 – 12, 22 – 20.
Unfortunately, they were beaten in the finals by the Australian team, losing 2-0.
Despite not beating New Zealand's rivalry team, Ella says they still had a once in a lifetime experience.
"We were both like, look where we are, we are in the Bahama's in the finals together. It's just an awesome experience to have for ourselves and with each other as well, and we will always have that," says Ella.
"We lost to Australia in the finals, but I guess you learn a lot more from losing a pool than more if you win. It will definitely prepare Jasmine and I both with what to do in a situation like that again."
Competing at a high standard in Volleyball may be built in Ella's genes, with all her family being heavily involved in Volleyball.
Tauranga Boys College teacher and dean, Mike Akkerman played 114 test for New Zealand, was captain for five years, competed in the World Series and travelled overseas playting four-aside for New Zealand.
St Mary's School teacher Megan Akkerman played club volleyball at university, played provincial level, and was part of a New Zealand development squad.
On top of that, Ella's sister, Rose plays in the Junior A team at Otumoetai College
Ella says her family is extremely proud of how well she did at the Olympics.
She says her parents were trying to keep as up to date as they could while she was away.
There was a media person from the Olympic committee who regularly posted on the Olympic snapchat, Instagram, Facebook and website, as well as, talking to her coach.
She says going into the Olympics she didn't know what to expect, but through this experience she has learnt how much preparation goes into competing at an international level and how hard you need to work.
"If you want to go as far as you can. The only limit really is yourself, you've got to push past your own barriers and blocks you've put up, and stop thinking 'oh no surely I can't do that'.
"When our coach first asked us where do think you will come, we both said, we don't know what the competition is like, we don't know what to expect, but then we looked at it and thought 'why don't we think we can get into the final'.
"I think it's just that belief in yourself to make the most of the opportunity you've been given."
She says she has made great friends with the other New Zealand teams and is grateful for the support from her friend, family, coach and Jasmine.
"Coming back and being able to see all the amazing, congratulations and well done, that was really awesome."
While all her friends are longing into Universities in New Zealand, Ella is currently looking into studying abroad in the US.
"It's an unopened door as such, but it is getting there."
More on SunLive...