The gap between city rules and wishes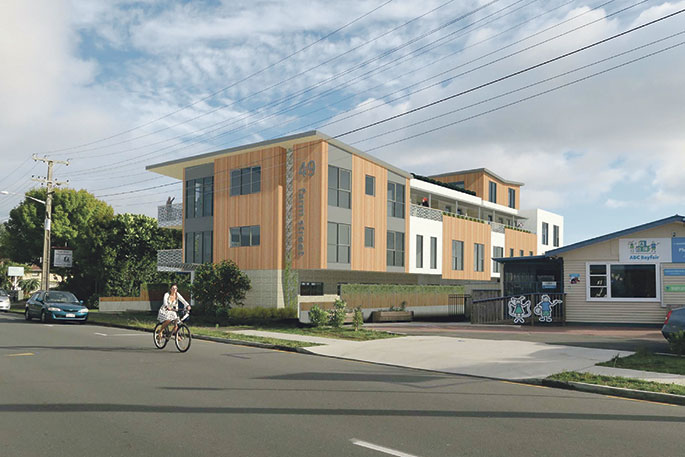 Click the image above to view slideshow
The recent decision by hearings commissioner David Meade refusing a three-storey commercial/residential development in Farm St, Mount Maunganui signals a lack of communication between the Tauranga City Council and the community says the developer, Sue McArthur.
Farm St Developments Ltd presented a plan which was approved by council planning staff on the basis of the 'aspirational documents' of the Compact City Project and the Bay of Plenty Regional Plan, all of which talk about Tauranga intensifying development within existing boundaries.
"We felt this development would fit very nicely with what they want to achieve," says Sue. "We've done research into what constitutes good place-making, and felt what we proposed was going to fit very well."
Neighbours objected to the size and scale of the building, with the objections upheld by hearings commissioner David Meade, who refused consent following a hearing.
It places the city council between a rock and a hard place says City Transformation Committee chair Larry Baldock.
Since December 2016 the government requires the city council to produce and plan for a certain number of sites for development, whether by re-developing housing within the city or by spreading out into the surrounding countryside.
The city's neighbours – the Western Bay of Plenty District Council and the Bay of Plenty Regional Council – and SmartGrowth want the city to intensify so it doesn't spread out.
While the city council agrees in theory, Larry says that without a change to the city plan it is very difficult for developers to get the Farm St style of development, which the city wants, the city's neighbours' want but the city's residents do not.
Sue says the conversation in the community about how the city is going to grow has to be ramped up.
"Because if you don't know what is important in a city and how to go about making it a really great place to live, then we are not going to go down the right track.
"It can't just be the city planners and the councillors and the bureaucrats that understand these things. They have got to have this conversation with the community in a really open and transparent way so that everybody is on the same page.
"I think there's increasing understanding of the need for that to happen. We don't need to reinvent the wheel. The solutions are already out there being activated in cities all over the world. Auckland just up the road is a good example of that. They are starting to understand what they need to do and they are starting to do it, so we will get there."
More on SunLive...