Local artist recognised at awards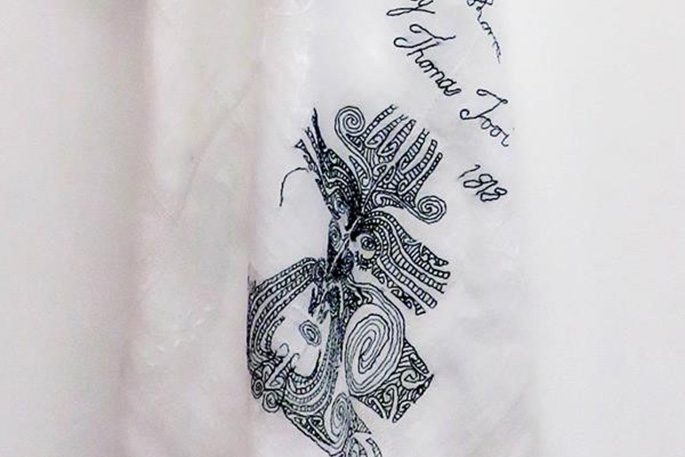 Local artist Jo Torr's 2016 piece titled 'Korro Korro by Thomas Tooi1818'has been granted a merit award in the 2017 National Contemporary Art Award, held last month in Hamilton.
The artwork takes as a reference a rendition of a moko drawn by Tuai, a young Nga Puhi chief, while in England in 1818.
The work draws attention to the way Maori travelled the world prior to the signing of the Treaty of Waitangi.
Jo is an artist whose sculpture takes the form of garments with Polynesian/Maori and historical references. The primary thread through her work is of mutual cultural exchange; the way each party is altered and enriched by their encounters. Cloth is often a cultural commodity of these exchanges.
The moko, embroidered in muka onto fine linen (both derived from 'flax'), can be alternatively viewed as an evocation of Tuai's brother Korokoro, as a signature of the type often seen on cloth as an indication of ownership or simply as a decorative motif that complements and contrasts with the existing embroidery on the cloth.
The National Contemporary Art Award was established in 2000 by key members of the Waikato Society of Arts.
Gavin Hipkins won the inaugural Trust Waikato National Contemporary Art Award and received $10,000 for his photo of a soap dish.
More on SunLive...