Chilled sounds come to town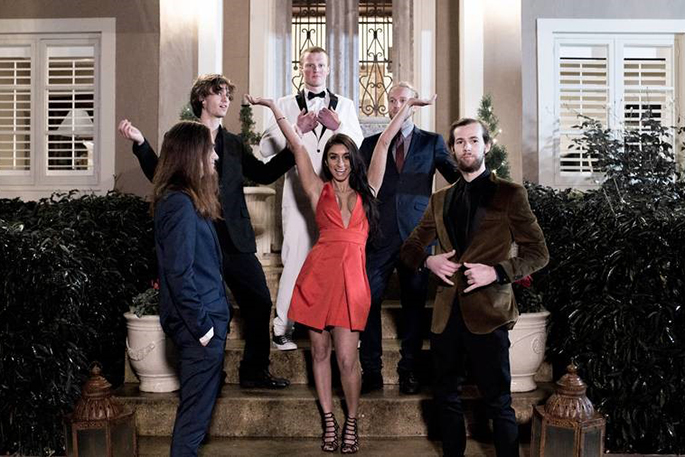 Former Bay boys Strangely Arousing are touring New Zealand to support their self-titled debut album, released last month.
Originally from Rotorua, Strangely Arousing have been working on building a loyal fan base through their eclectic live performances and a solid online presence.
They are hoping chilled out sessions like their one in Tauranga last Sunday will win the hearts of the locals and grow their fan base even more.
"We sold out the first weekend of shows which was just phenomenal," says lead singer Lukas Wharekura.
We've spent three years working towards this, writing songs, recording our album and preparing shows."
"It was amazing to finally record the album and we are all really proud of it. We wanted it to be the absolute best to showcase all the work that has gone into it."
Recently the band made headlines with their music video for Groove Shooter, featuring Naz (Nazanin Khanjani) from the New Zealand Bachelor.
The video was filmed in North Auckland in a multi-million dollar property.
The band scrubbed up for their starring role as bachelor's trying to win Naz's heart.
"Naz was a real sport on set and was open to doing pretty much anything," says Lukas.
"People either love her or hate her, so it was a good move for us to have her in the video as it made people pay attention."
The band is made up of Oliver Prendergast (drums), Shaun Loper (bass), Lukas Wharekura (vocals, guitar), Forrest Thorp (trumpet, keyboards) and Liam Rolfe (trombone, backing vocals).
They formed Strangely Arousing at Rotorua's Western Heights High School back in 2012 for a very rock and roll NCEA assignment.
They fell in love with music and the brotherhood of being in a band from the get go, going on to win the regional finals of Battle of the Bands in – one of the youngest ever in New Zealand to take the title
They went on to win Pacifica Beats in 2013 and have played support slots and festivals alongside their musical heroes Damian Marley, Fat Freddy's Drop and Sticky Fingers.
They also have links to New Zealand music royalty too. Lukas' granddad Wi Wharekura is a member of the Howard Morrison Quartet.
"He's one of the originals to pave the way for New Zealand music, he's been a huge musical influence on me," says Lukas.
Wi, now based in Australia hasn't seen Strangely Arousing play live, but Lukas says he is hopeful that will happen one day as the band have plans to tour Australia and further afield to Europe.
Strangely Arousing was recorded at Neil Finn's Roundhead Studios in Auckland and is an 11 song exploration into the hearts and minds of these five 'musical gypsies.'
They describe themselves as a reggae/ska band but they effortlessly blend other genres and styles of music into their own fully unique sound.
More on SunLive...