Whakatane dam wins prestigious award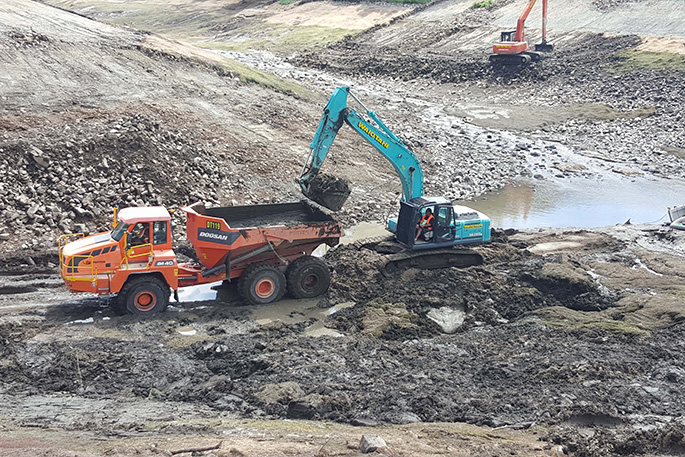 Work at the Aniwhenua Dam Head in Whakatane has won an award at the recent Civil Contractors New Zealand's national awards held in Dunedin.
The Aniwhenua Dam project won the Hirepool Construction Excellence Awards category for projects with a value of less than $5 million by companies with an annual turnover of greater than $10 million.
Nova Energy selected Whakatane-based Waiotahi contractors and consultants Tonkin + Taylor to design and undertake the complex work to remediate a serious leak in the dam, which was causing the Aniwhenua Power Station head pond to leak into the Kaingaroa Forest.
The judges say the project had difficulties and a level of uncertainty, with contractors unable to determine exactly what conditions existed around the area of the leak and the amount of debris on the floor of the head pond.
"Deadlines were strict, and a progressive approach to the design of the repair was required which, in turn, required confidence in the contractor from the client and the engineer," says a Civil Contractors judge.
"The parties involved worked together to develop solutions to problems that were uncovered as the project progressed, and while significant technical difficulties were encountered, these were worked through on the job to the satisfaction of the client.
"Both the client and the consultant commended Waiotahi on their ability to work closely and collaboratively, and the end result was an excellent project, delivered on time and to budget."
CCNZ CEO Peter Silcock says the judges have told him their job to choose the winners was particularly difficult this year as the standard was so high.
"There's been so many new complex and vital infrastructure projects up and down the country that show the professionalism in our industry. Every one of the awards entries connect people together and/or connect them to services.
"CCNZ is very proud of our members and the integral part they play in their communities and all these projects demonstrate their level of commitment and dedication to creating a better New Zealand."
More on SunLive...