Bird watching made easier along track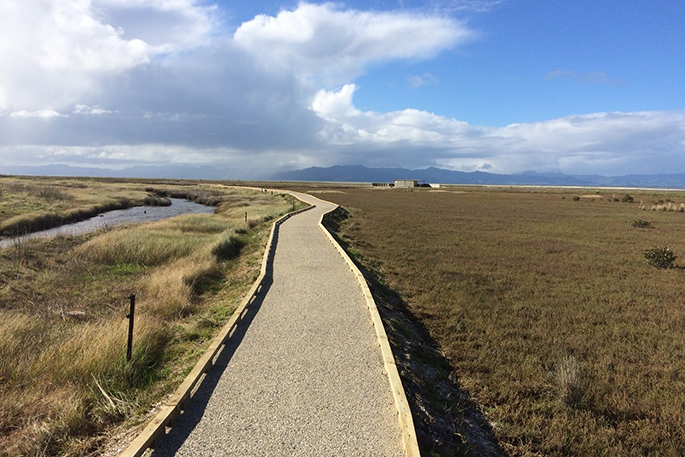 Click the image above to view slideshow
Bird watching at Pukorokoro-Miranda is now wheelchair friendly and accessible in winter thanks to a major upgrade of a walking track from East Coast Road to a bird viewing hide.
The hide is maintained by the Pukorokoro-Miranda Naturalists' Trust which runs the Pukorokoro-Miranda Shorebird Centre, two kilometres from the site, in the Hauraki District.
It overlooks mudflats and shell banks that are a seasonal home for around 40 species of shorebirds, including bar-tailed godwits and red knots, which breed in Alaska and Siberia. These birds fly from Pukorokoro-Miranda to their breeding sites and back again every year, with a stopover in China.
The track upgrade was funded by Living Water, a partnership between Fonterra and the Department of Conservation that's working in five catchments in significant dairying regions, including the Pukorokoro-Miranda catchment. The upgrade of the 400-metre long track includes widening, flattening and making the surface smoother to accommodate wheelchairs.
It is also designed to stay dry in all weathers so the hide is easily accessible all year round.
Pukorokoro-Miranda Naturalists' Trust chair Gillian Vaughan says the trust is thrilled with the track upgrade because it's made the bird viewing hide far more accessible to a wider range of people.
"One of our main objectives is to raise public awareness of these amazing shorebirds and their habitats, and this will help us do that," she says.
Pukorokoro-Miranda is recognised as an internationally significant habitat for migratory birds by the Wetlands Convention, established at Ramsar in Iran in 1971.
Hauraki District Mayor John Tregidga says it's fantastic to see initiatives like this come out of collaboration between the public and private sector.
"Better access to the bird viewing hide will not only allow access to more people, but enhance and add to the experience of those using the new section of the Hauraki Rail Trail, due to be officially opened in September.
"You only need to look around and listen to the birdlife, to see why this site is so important to the community, and internationally.
"Tourism in Hauraki is growing and I'm not at all surprised. This coast, the Karangahake Gorge, great food, great communities, proximity to large populations, and the Hauraki Rail Trail linking it all together – it's a winning formula. I expect this track will become one of the more popular tracks in the district."
More on SunLive...