America's Cup coming to Tauranga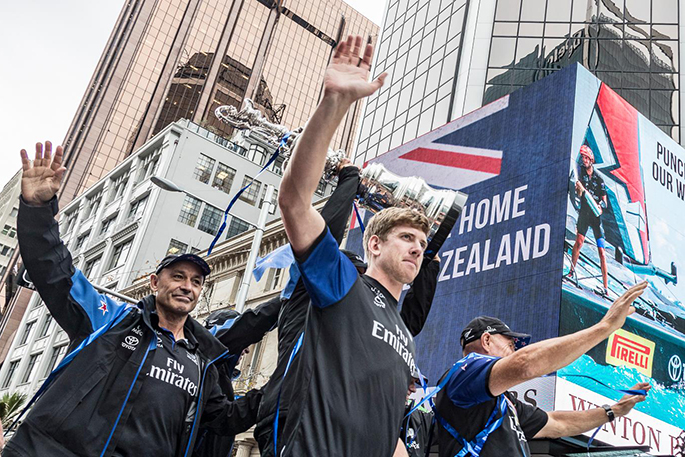 The America's Cup will be on display in Tauranga, accompanied by Emirates Team New Zealand helmsman Peter Burling, in just over two weeks' time on Sunday August 27.
The date has been confirmed by the Cup's custodians The Royal New Zealand Yacht Squadron, whose diary places the Auld Mug in Tauranga on that date.
"We had a number of dates floating around," says RNZYS general manager Hayden Porter today. "The 27th is the date that's been settled on and it will be heading down on that date from here."
He's unsure if the cup is in Tauranga from morning until evening or if it will remain overnight.
"We're still working through all that side of things. We are just making it available on several people's request and we have come up with that date that works for everybody."
Tauranga City Council could not confirm the date when SunLive made enquiries, with staff saying it is going to be communicated to the public early next week, along with detailed plans which are being confirmed in coming days.
With Tauranga Yacht and Powerboat Club member Peter Burling at the helm, Emirates Team New Zealand beat Oracle 7-1 to claim the cup in Bermuda on June 27.
The Royal New Zealand Yacht Squadron is the club behind New Zealand's America's Cup campaigns, under the guises of New Zealand Challenge and Team New Zealand. It held the America's Cup from 1995 until 2003, becoming in 2000 the first non-American holder to successfully defend the trophy. After Team New Zealand's victory in the 2017 event, the Royal New Zealand Yacht Squadron are the current holders of the America's Cup.
The club was established in 1871 in Auckland with the name of the "Auckland Yacht Club". Its name was changed to "Royal New Zealand Yacht Squadron" when it was granted royal patronage in 1902.
More on SunLive...