Drilling under harbour complete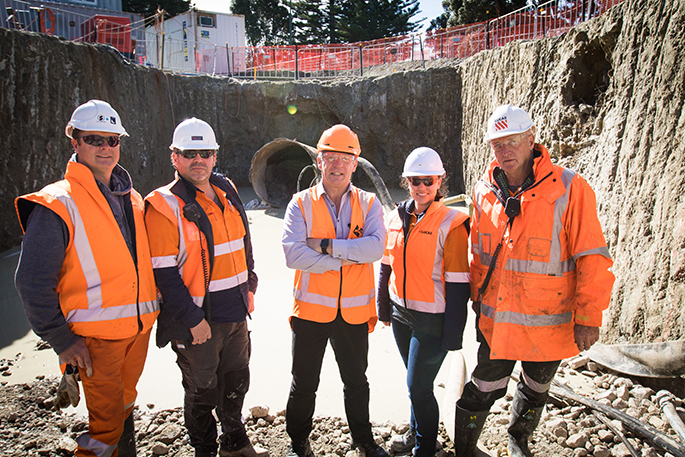 Click the image above to view slideshow
The drilling phase of the Southern Pipeline Harbour Crossing was successfully completed on Saturday when the drill reached the Memorial Park side from Matapihi, after two weeks of drilling.
The drilling work used Horizontal Directional Drilling, which is the safest option for the environment.
The project required the drill to be accurately directed under the harbour bed at a depth of up to 35 metres, following a curved path and aiming for a target 76cm wide, from 1.6km away.
This midday arrival marks a significant milestone in the Southern Pipeline project, which has been underway since February.
"The weekend's milestone is an important part of the project," says Tauranga City Council Project Manager for the Southern Pipeline, Steve Wiggill.
"We've brought experts to Tauranga from around the world to work on this project and ensure it is successful, but it is still no easy feat to complete drilling work in an environment like this.
"Throughout this project, our focus has been on protecting our harbour and the environment. Successful completion of the drill work means the most technically challenging part of the project is now complete."
The next phase of the project is to enlarge the hole to 1.4m in diameter. Once this is complete, the 92cm diameter steel casing pipe, which has been welded together in 450m long strings at Memorial Park, will be pulled through the hole to Matapihi.
The 80cm diameter polyethylene pipe, which is the pipe that will eventually carry the wastewater, will then be fed through the steel casing pipe from Memorial Park to Matapihi.
The final part of the project is to connect the two ends of the Harbour Crossing to the sections of Southern Pipeline at Memorial Park and Matapihi that are already in place.
The $21 million harbour crossing is the final stage of the $99 million Southern Pipeline project, one of several key infrastructure projects being built to cater for the rapid growth being seen in Tauranga. The pipeline will relieve pressure from the Chapel Street Wastewater Treatment Plant by redirecting much of the city's wastewater to the treatment plant at Te Maunga, which has extra capacity.
It will connect the wastewater network between Memorial Park and Matapihi through a pipeline deep beneath the harbour bed, at a depth of up to 35m. Southern Pipeline construction started in started in 2009.
The harbour crossing construction began in February 2017. The entire Southern Pipeline project is due to be completed and functioning at the end of the year. For more information, visit www.tauranga.govt.nz/southern-pipeline
More on SunLive...