Confronting civil war in South Sudan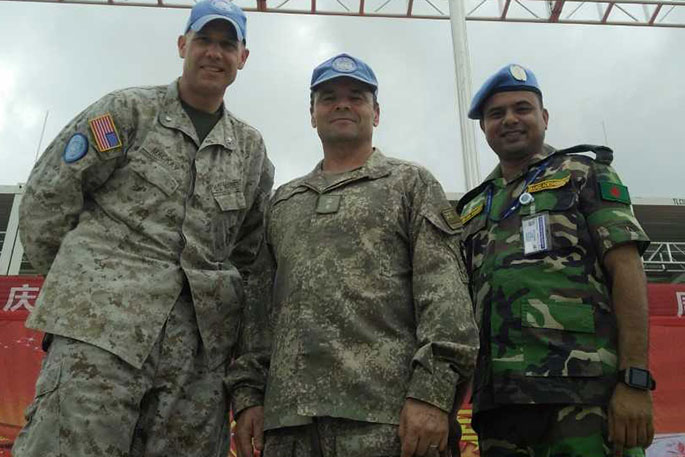 Click the image above to view slideshow
A former Otumoetai College Deputy Head Boy is a long way from home taking on civil war and famine.
Lieutenant Colonel Tony Downey is working as part of the United Nations Mission in South Sudan, and has his work cut out for him in a country beset by civil war and famine.
The New Zealand Defence Force officer, who is Deputy Chief Planner at the Force Headquarters of the United Nations Mission Force in the Republic of South Sudan, has seen up close the extreme living conditions and hardship experienced by the people who have been displaced by the civil war.
"The impact of uncertainty and war on the population was evident," he says.
"But the people are extremely resilient and their will to survive is inspiring."
Lieutenant Colonel Downey's job entails planning operations, providing advice on crises management and helping train key support elements.
With South Sudan torn by a vicious three-year civil war and parts of the country experiencing famine, being a planner was very challenging given the volatile situation, he says.
"Although there is so much uncertainty, we stay hopeful that peace and security will be restored some day."
Based at the UNMISS headquarters in the South Sudanese capital of Juba, Lieutenant Colonel Downey is part of a nine-member team from eight countries that advises the UNMISS Force Commander and staff on crisis management and how to mitigate security challenges.
Several countries, including New Zealand, contribute to the 12,000 troops and 1600 police personnel that make up the UNMISS Force.
Lieutenant Colonel Downey is also the NZDF's Senior National Officer in the African country, supervising three other NZDF officers posted in the region.
Lieutenant Colonel Downey enlisted in the New Zealand Army in 1981, after graduating from Otumoetai College in Tauranga, where he was a Deputy Head Boy.
"I decided to give a career in the Army a go after attending a recruiting expo at school. I thought it would be an opportunity to challenge myself in something that seemed outside the box at that time."
He was assigned as a Storeman All Arms at the Royal New Zealand Corps of Transport after finishing initial training.
He has served previously in Angola, Lebanon, Syria and Timor-Leste, and was the Commanding Officer of the Army depot in Waiouru for three years before he was posted to South Sudan in March.
"I hope that our work here in South Sudan is helping make a difference towards achieving peace and security for the civilian population," says Tony.
"Smiles of gratitude from the people have been the biggest reward."
More on SunLive...