New cinema part of Papamoa development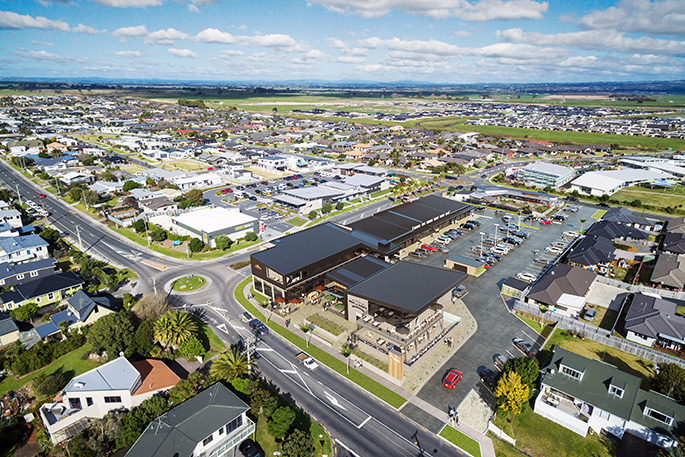 Click the image above to view slideshow
Tauranga will soon get a new boutique cinema as part of a major new development in the rapidly-growing suburban area of Golden Sands.
Construction has begun on the second stage of the Excelsa Centre, located on the corner of Golden Sands Drive and Papamoa Beach Road.
The developers, Bluehaven Management, say the two-storied complex will open next year with a highly contemporary design and modern facilities, aimed at serving the area's booming catchment.
Among the new building's confirmed tenants are a gastro restaurant and bar, a 135-seat upstairs boutique cinema, a Mediterranean grill and other various bespoke eateries.
These will complement the first stage of Excelsa, located nearby, which opened early last year. Tenants there include a medical centre, dentist, pharmacy, café, a Four Square supermarket and two childcare facilities.
When completed, the total Excelsa Centre will offer 4400 square metres of leased space, more than 220 car parks, and employment for more than 100 people. The stage currently under development will contribute 117 car parks towards the total and 14 new tenants.
Bluehaven Management Chief Executive Nathan York says he is delighted at the quality of tenants that have committed to Excelsa.
"Golden Sands has experienced very strong residential growth, and the Excelsa Centre will continue to provide an invaluable amenity for our growing community.
"It's also important to note that Excelsa underpins a number of other exciting commercial developments that we're planning for the future in Golden Sands."
Established in the mid-1990s, Bluehaven is one of the largest land developers in the Bay of Plenty, and in particular the Golden Sands area.
High-quality housing stock and proximity to the beach has seen Golden Sands become one of the fastest-growing suburbs in New Zealand. New properties there typically sell for around $720,000.
The new Excelsa development will open in stages between March and August next year.
More on SunLive...