Not a fan of politicians' faces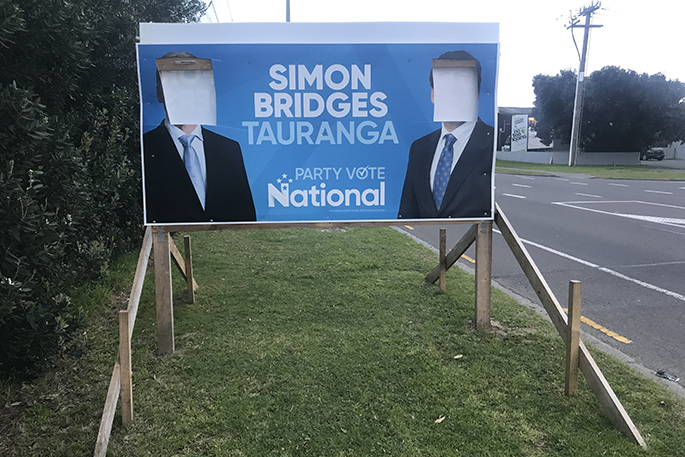 Someone in Tauranga isn't a fan of Simon Bridges' face – or Bill English's, for that matter.
A National Party hoarding on Totara Street has been struck by some unusual vandalism over the weekend, with the faces of the Prime Minister and the local National MP cut out.
Simon says it's not the only hoarding of his that's been targeted.
"I've heard about being off your face, but this is ridiculous," he laughs.
"It's clearly one person doing this, since there's a few hoardings it's happened to. But it just strengthens the resolve of my volunteers to get out and keep at it. We're not long to go and there's everything to fight for, not only locally but nationwide."
He says election signs like his are important to give campaigns visibility and increase the profile of candidates.
Although he can't give a specific number, he says several of his signs have been damaged around the city.
"Saturday night in particular seems to be when damage happens. However, other than this peculiar face cutting exercise, it hasn't been too bad."
He says 'the mind boggles' to think what this person is doing with all the faces they're collecting.
"I hope they haven't got a shrine to Bill and me – we want people's votes, but we don't need that sort of attention."
It's not known if similar vandalism has affected the hoardings of other political parties, which went up last month.
More on SunLive...