Keeping local bellies full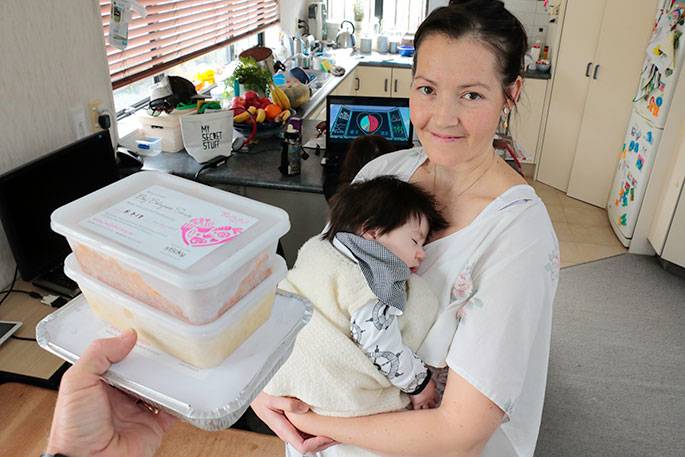 Click the image above to view slideshow
Having a new baby can leave you feeling overwhelmed and tired beyond belief. Trying to decide 'what's for dinner?' can be one of the hardest things to deal with every day.
A local group helping to keep bellies full for families with newborn babies and young children struggling with illness is celebrating the delivery of its 5000th meal this month.
Bellyful Tauranga was established in 2012 and is one of the busiest branches of the organisation in the country, having assisted almost 1000 families from Katikati to Te Puke at one of the most hectic and stressful times in their lives.
Simple, home-cooked meals are made in bulk at monthly 'cookathons' at Tauranga Boys' College – about 140-150 at a time – frozen and packed into plastic take-away containers and delivered free to families with newborn babies and young children struggling with illness.
Branch coordinator Jenny Whiting says Bellyful is not a food bank, however.
"The gift of food and the support that comes with it is what Bellyful is all about. Our service is appreciated by working parents as well as those at home. As an organisation we believe that it's important to acknowledge that parenting a newborn can be really hard and it's more than okay to ask for and accept help."
Jenny says the appreciation from families who use the service is heart-warming.
"It's incredible. You receive hugs and tears of appreciation. We've had comments like 'This is amazing. We've had tomatoes on toast at 10 o'clock for two weeks in a row for dinner'."
Jemma Singh, who has recently given birth to her fourth son, is one of the grateful recipients of Bellyful's frozen meals.
With four boys aged nine, five, three, and three months, life is "pretty full-on."
She says she was "super-mum" up until baby number four came along and she found juggling her busy household a bit of a struggle. Her Plunket nurse recommended Bellyful and Jemma self-referred via their website.
"I thought it would just be two or three meals but they dropped off three lots of lasagne, three lots of Bolognese and three lots of mac and cheese. It lasted several nights and my husband even got to take some leftovers for lunch. It was so cool."
Bellyful's monthly cookathons involve grating 8kg of carrots and chopping 5kg of onions which are then combined with 20kg of mince and 40 jars of pasta sauce.
Twenty litres of milk, 2kg butter and 8kg grated cheese make up the cheese sauce. Six kilograms of macaroni is added to make macaroni cheese and 4kg of lasagne sheets to make a beef lasagne layered with cheese sauce.
Meals are provided for three nights for the number of people in each family. Included with the delivery are heating instructions, a packet of spaghetti, baking done by volunteers and snack bars or other treats supplied by Food Rescue.
Referrals to Bellyful come from Plunket, midwives and anyone else who thinks a family needs a helping hand. Families can also refer themselves via the Bellyful website www.bellyful.org.nz
"It's mainly for people who lack a good support network and that's pretty typical now of young families moving into Tauranga – a lot don't have family in the area," says Jenny.
Bellyful Tauranga has a volunteer base of around 40 people, including cooks, deliverers and fund-raisers.
"We get no government funding but we are very lucky to have the Legacy Trust support us. We also had a grant last year from Acorn Foundation and support from local Z stations as part of their 'Good in the Hood' programme," says Jenny.
From this month if you purchase a 10 cent plastic bag at The Warehouse in Tauriko or Tauranga Central, you can support Bellyful by putting a token in the 'Bags for Good' donation boxes. If, at the end of six months, Bellyful has the most tokens, it will receives the proceeds of the bag sales.
More on SunLive...