Students become culinary geniuses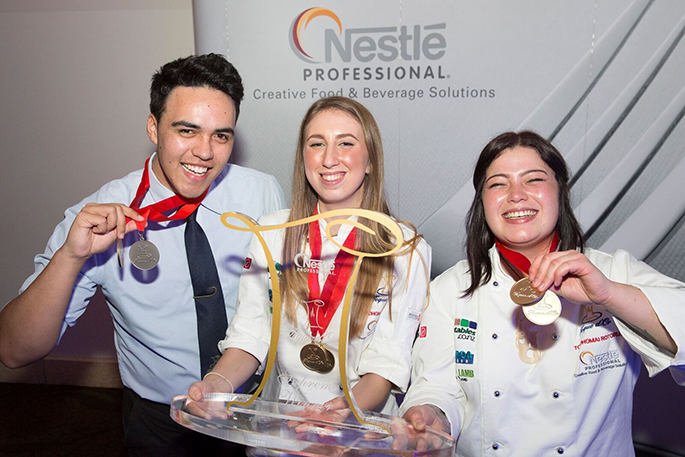 Toi Ohomai Institute of Technology in Rotorua fought off some fierce competition to win the prestigious annual Nestlé Toque d'Or student culinary competition.
Culinary students Mikael Aranga-Papuni and Bethaney-Mae Allen picked up gold, while Michael Takiwa received a silver medal.
The trio also won an additional award sponsored by Moffat for their innovative use of Nestlé professional products.
This is the first year the Toi Ohomai Institute has won, and Bethaney-Mae says she and her team mates were ecstatic by the results.
"We spent months coming up with an award-winning menu, perfecting our routines and putting it all into action. On top of that, we had to manage study and work commitments, but the result we've achieved has been well worth the effort."
The trio battled it out against 27 other top students from around the country to create their winning three course menu, which they had to complete in three hours.
Mikael and Bethaney-Mae prepared the dishes, while Michael served up the dishes to guests dining at the event.
The dishes included a starter of hot smoked Akaroa salmon and salmon tartar, followed by a crusted New Zealand prime lamb rack and loukaniko (Greek) sausage. The menu concluded with a butterscotch dessert and banana coconut puree.
The dishes where critiqued by a panel of judges which included WorldChefs president Thomas Gugler, and leading culinary figure Darren Wright.
Participates were marked based on the WorldChefs International Judging Standards, which include food preparation, presentation, taste and service. If any errors were made by competitors during the event points were lost.
The team's trainer Jonathan Chemis says bringing home the top award is a triumph not only for the students and the Toi Ohomai Institute but also for the Rotorua.
"It clearly demonstrates that we have the talent and skills in hospitality in the Rotorua area. This win firmly puts Toi Ohomai on the culinary map and provides the region with an opportunity to showcase its expertise to the rest of the country and even overseas.
"Achieving top ranking at such a prestigious competition as Nestlé Toque d'Or is a significant milestone. For these students and others who follow in their footsteps at Toi Ohomai, rewarding careers within the hospitality are now easily within reach," says Jonathan.
The event which has been running for 27 years is a key fixture on the culinary calendar and is hotly contested by the country's leading hospitality institutes.
Event organiser and New Zealand Chefs Association President Graham Hawkes says Nestlé Toque d'Or is the ultimate challenge for hospitality students.
"They have to pull it all together, work seamlessly as a team and deliver a polished performance on the day while under pressure.
"Aside from the competitive element, the event also opens doors for the students by placing them in front of hospitality professionals from around New Zealand who attend it."
This year was the 27th anniversary of Nestlé Toque d'Or which is New Zealand's longest running and most prestigious student cookery and restaurant service event.
Aside from New Zealand, it is also held in 17 other countries around the world and has launched the careers of many world-famous chefs.
Sponsors of this year's event were Nestlé Professional, Beef + Lamb New Zealand, vegetables.co.nz, Akaroa Salmon, House of Knives and Moffat.
More on SunLive...