A furry, four-pawed hero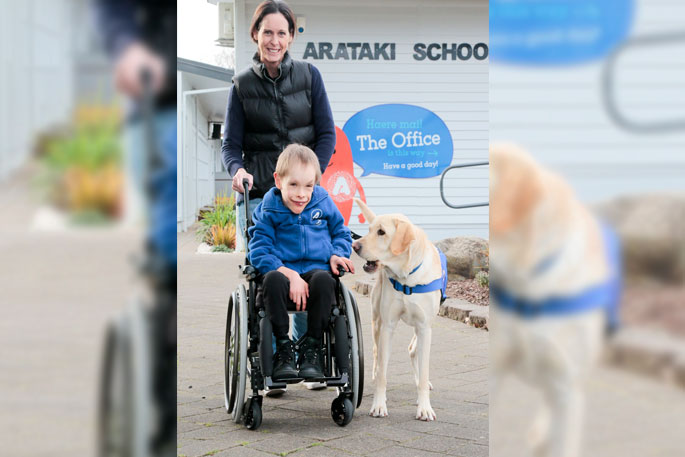 All it took was the nudge from a wet nose and young Isaac Gray's life was turned around.
From the big things like hospital visits to the small things like bath time, Liam the lab has changed a family's life, and it's thanks to the help of the Assistance Dogs Trust.
Isaac has cerebral palsy, a condition that affects movement and posture, and Liam the Labrador has helped open Isaac's world in only two months.
Mum Shelley Merrie says Liam is also helping Isaac become more mobile. Instead of being wheelchair-bound, Isaac can use a walker and hopefully soon walk beside Liam.
"He's still in a wheelchair but we didn't think he'd be this physically advanced. He also uses a walker, however they were also wanting Liam – who is actually a really big, strong dog – to be taught to hold Isaac's weight to be able to transfer out of a wheelchair, sit-to-stand, and possibly, we hope in the months down the track, the two of them being able to walk side-by-side with Isaac holding a little handle."
And the dog means some of the anxieties Isaac faces melt away in the face of a big brown nose and kind, watchful eyes.
"Isaac is a really happy, social little boy but everyday living brings about a lot of anxiety for him. He has a lot of hospital visits, so hospitals are the scariest place in the world with the treatments that he has had to endure. I can honestly tell you that since the day Liam came around, those anxieties have drastically reduced."
Liam has not only brought assistance and stress relief into little Isaac's life, he's also brought with him a new vigor for life.
"Isaac went through a gastro virus, he had two hospital episodes within a week, and he became very sick and quite depressed," says Shelley.
"He must have thought: 'I don't want to do this anymore'." Isaac was a child beaten down and feeling hopeless.
"We hadn't had a lot of smiles from him; if you knew Isaac, smiling is his thing. But I can say from the day Liam arrived – he has gone from strength to strength, happy.
"Liam has brought him so much joy and so much love and has just been able to get stronger and stronger and he is back at school and enjoying life." Exactly what the mother had needed to see in her boy.
And the lab means Isaac feels the social pressure leveraged a little.
"Having a dog also brings him out into the community. Instead of seeing a kid in a wheelchair they say: 'Wow look at the dog with that child' – it becomes about a dog and a little boy," says Shelley.
Assistance Dogs New Zealand Trust is holding its annual appeal week from August 10-12 and is looking for collectors. For more information visit www.adnztrust/org.nz/appeal
More on SunLive...