Cheer squads gather to break record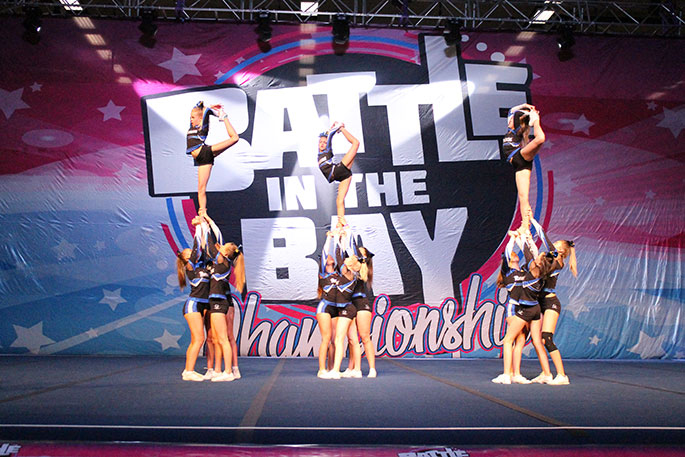 Cheerleaders all over New Zealand are taking on a world record for the biggest cheerleading pyramid today.
The Battle in the Bay event is in its second year running and brings cheerleading teams from all over the country to perform and show off dazzling skills.
This year they have added a Guinness World Record to the mix, the largest Cheerleading Pyramid, with the record standing at 46 people.
They hope to beat this with over 60 cheerleaders in a pyramid at the ASB Arena at 1.15pm.
Bay Twisters chairperson and Battle in the Bay event organiser Rebecca Grigson says they wanted to add something extra to the event that would be fun and encourage the public to come along.
"I thought how cool would it be last year to host our own competition, so last year was our first competition, we had heaps of people come, but this year we are expecting 700 athletes from across the country."
"We are lucky enough to have Simon Bridges come to witness our Guinness World Record attempt, and everyone is welcome to come."
The Pyramid will be three levels high and will have to be held for 30 seconds.
They must meet the world record requirements by videoing it, measuring how high the pyramid is and using an approved way of timing it and organising the participants.
Record breaking organiser Ellen Worthington says for every 50 people there will also be two stewards who will watch how the pyramid is constructed.
"In terms of the cheerleading side of it, we have been working closing with the NZCU, which is the New Zealand Cheerleading union, to ensure that it's safe by their standard, because having a third- tier is highly remote, so we will be having more senior cheerleaders executing that part of the programme," says Ellen.
"We will be grouping everyone by ability and positions in their normal teams, so some people will be bases and some people will be flyers."
The standing pyramid will have 10 nominated members from all the clubs that are involved in the Battle in the Bay event.
There will also be a range of performances from cheer squads like Cheer Dynamics from Papakura, who have a team that will be competing at the Worlds, and a solo performance from Rebecca's daughter Anna Grigson, who won at the Nationals last year.
Rebecca says it's great that cheerleading is being recognised more with events like this one driving its' popularity forward.
"We (New Zealand) have done pretty well, we have bought home a few gold medals, with an all-star team, so we actually compete quite well.
"It the fastest growing sport in New Zealand, its huge here now and getting bigger and bigger."
The Battle in the Bay event is running for the whole day at the ASB Arena, with the Guinness World Record being attempted at 1.15pm.
Everyone is welcome to attend. Tickets can be purchased at the door.
More on SunLive...