Activity programme gives kids confidence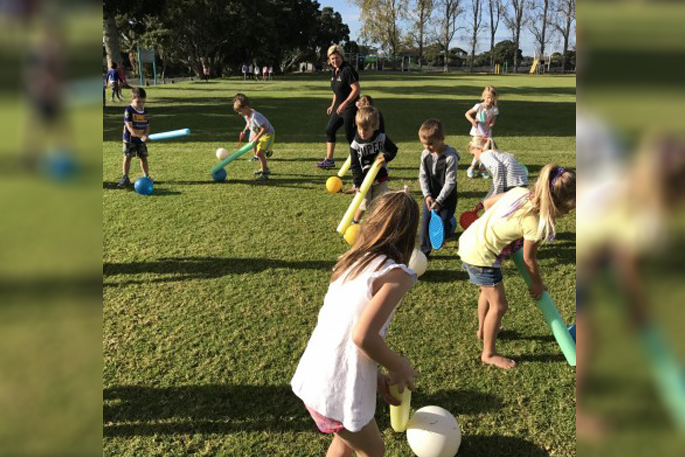 A fitness programme designed by Sports Bay of Plenty is giving children who don't want to become sporting stars the confidence to get up and start moving.
The programme Go4it has been running since 2011 and has continued to grow with positive feedback from many schools.
"One of the biggest barriers to a lifelong love of sport and recreation is confidence, and through the GO4it programme, it is our aim to increase students' confidence in physical activity and fundamental movements," says Sports Bay of Plenty fundamentals advisor Debbie Garea.
She says it's not just about encouraging the kids to get active it is also about changing kids' behaviours and giving them the confidence to participate in activities despite their skill levels.
"I have an autistic boy in my class and because I could put time into including him in the session he got involved. He now plays outside at lunchtime, has made new friends and feels he can participate in games," says Year 3 Omanu Primary School teacher Jacqui van der Beek.
"There are significant spin-offs from the lessons, including a general bonding of kids who hadn't spent a lot of time together before," says Omanu Primary Year 5-6 teacher Penny Deane.
The programme started with 22 schools, and now has more than 6000 students and 41 Bay of Plenty region schools participating, 18 in Western, 12 in Eastern and 11 in Central.
The GO4it programme starts with basic movements, incorporated into kid-friendly games and activities in the junior level (Years 0-2).
This progresses to Multiskills for Years 3-4, which includes upskilling students in utilising big and small balls, and striking.
The senior sessions include Hit It, Kick It and Pass It, using more sport-specific activities to improve students' movement.
"During the programme our children are all engaged, as it is very inclusive and they all have the opportunity to succeed," says Matata St Joseph School principal Bridget Rika.
"One of our students didn't participate often in sport, and now includes himself and attempts everything. It is great to see his progress through this programme".
The Fundamental Skills Coordinators of the programme work closely with teachers to ensure they have the ability to continue running the programme and provide professional development to upskill their own physical literacy.
This allows them to plan and develop sessions around locomotor, manipulative and body management skill themes that supports physical, social, emotional and cognitive development.
The next Junior GO4it teacher workshop will be held in Tauranga in term three.
More on SunLive...