Farm St refusal highlights city pressure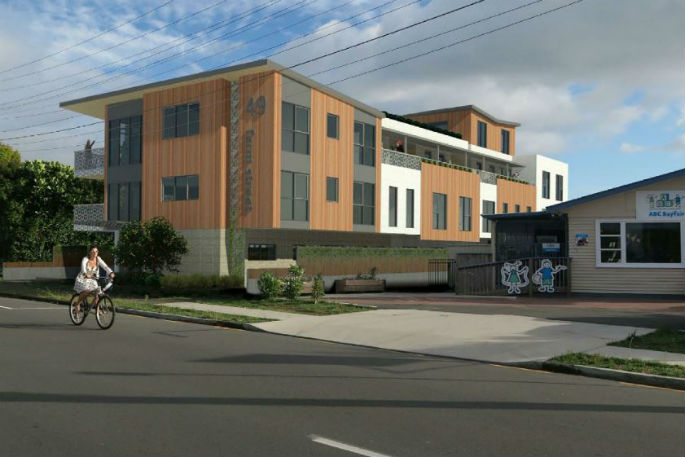 A decision to refuse a three storey mixed commercial/residential development in Farm Street, Mount Maunganui, highlights conflicting planning pressures facing the current city council.
In December 2016, Tauranga City Council was instructed by the government to produce a required number of sites for development over coming years, whether greenfield or by redeveloping existing housing, known as brownfield.
The more brownfield sections can be re-developed, the fewer greenfield sections are required.
The council has adopted a 'compact city project' which is aimed at intensifying residential development in Tauranga existing urban area.
Taking the regional plan and the council's aspirational document on intensification as a guide, Farm Street Developments Ltd proposed for 49 Farm Street, a three storey building with a pharmacy at street level and apartments on the two upper floors.
"We felt this development would fit very nicely with what they want to achieve," says developer Sue McArthur.
"We've done research into what constitutes good place making, and felt what we proposed was going to fit very well."
Neighbours objected to the size and scale of the building, with the objections upheld by Hearings Commissioner David Meade, who refused consent following a hearing.
It places the city council between a rock and a hard place, says City Transformation Committee chair Larry Baldock.
"Without a plan change it is very difficult for developers to get this sort of development which the city wants to encourage because of the intensification targets we have to meet," says Larry.
"Even making a plan change is difficult because it is subject to consultation and residents are not keen on it, and that's the only path that we have really."
And pressure on the council is intensifying.
"Not only the government but our colleagues in SmartGrowth, who want us to intensify so we don't spread out - which in theory we agree with, but it is difficult to bring it about. And particularly in brownfield areas where you have residences.
"It has to be a legitimate concern, nobody wants a three storey building next to them that is going to block their sunlight."
Sue McArthur says the conversation in the community about how the city is going to grow, has to be ramped up.
"Because if you don't know what is important in a city and how to go about, making it a really great place to live, then we are not going to go down the right tracks," says Sue.
"It can't just be the city planners and the councillors and the bureaucrats that understand these things. They have got to have this conversation with the community in a really open and transparent way, so that everybody is on the same page.
"I think there's increasing understanding of the need for that to happen. We don't need to reinvent the wheel. The solutions are already out there being activated in cities all over the world. Auckland just up the road is a good example of that, they are starting to understand what they need to do and they are starting to do it, so we will get there."
When presented with a development like that proposed for Farm Street, people are currently responding without necessarily understanding what seeing that kind of development means in terms of how the city develops. There was considerable push back from the community, and a number of objections.
"People look at a big building and go, 'This is awful. This isn't what we want our street to look like', and I certainly have some sympathy with that feeling.
"But when you have a city that is growing very rapidly and you see the urban sprawl we are seeing in Tauranga, the only solution we have got if we want to avoid all the problems that are happening in other cities in the world, is to intensify our housing around transport nodes.
"The trick is to make sure those buildings are built really well. It's not a question of ramming small poorly designed apartments into a site similar to the one we have in Farm Street. But to attempt to build that intensified housing in a sympathetic way, and I felt we achieved that."
Even though the building covered 80 per cent of the site, the design gave apartment residents a roof garden where they could be a community and enjoy outdoor space.
They are not giving up, says Sue.
"We have the planners and the architects back on board, scratching their heads, trying to find a solution that will satisfy everybody in the end," says Sue.
"We are certainly disappointed with the finding but we are certainly not giving up. We have got to think of a way to go forward.
"We are aware we need to address the concerns raised by the commissioner, we certainly will do that and find a way forward.
"We want this development to sit comfortably in this neighbourhood, and we want to make sure that it's going to be a benefit to the neighbourhood to the existing residents that are there, and in the end be a really good thing for the Arataki community as well."
More on SunLive...