Life- changing walking bike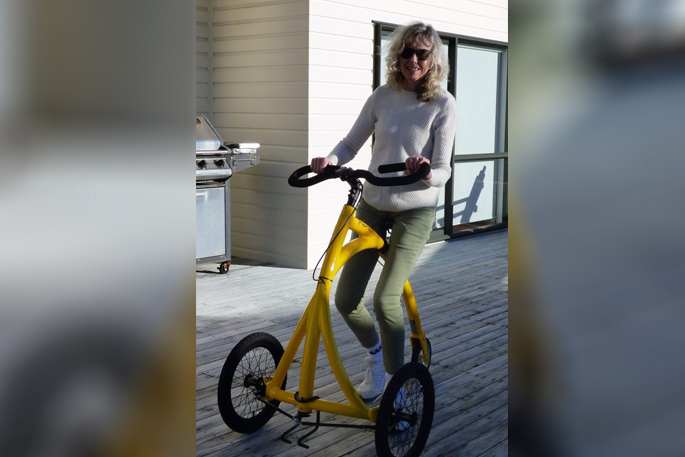 Click the image above to view slideshow
Jo Griffin's new three-wheel walking bike has given her the confidence to go on more long distance walks.
The Matarangi Beach electrical services business owner was diagnosed with multiple sclerosis 28 years ago, when she was 31.
MS is a disease of the central nervous system that affects movement, sensation and body functions.
Before the Alinker walking bike, Jo either walked with a walking stick, exerstrider or went in a wheelchair.
She loves that people look at her at eye level now and that people, who in the past ignored her, now comment on what a cool yellow machine she is sitting on.
"They see me and not my disability."
"I am not able to walk long distances but I have always been very proactive when it comes to my health and wellness so exercise and diet have always been a priority," says Jo.
"When I discovered the Alinker I was blown away and could see so many positives for changing so many lives, mine included."
Jo had been told about the Alinker by a friend, so she googled it and was drawn to it straight away.
"I sent the link to my brother John, who lives in the United States, saying 'isn't this cool. What do you think?' He said, 'Jo, you've got to get one' I couldn't really afford it but he said, "you can't put a price on your quality of life'."
"There will be some people who unfortunately will be unable to use the Alinker but for those who can, it gets you out of the house, works your quads, hamstrings and core all at once, is brilliant in shops and malls and you can be totally independent," says Jo.
"You can walk and talk with your partner or friends; it is all about inclusiveness, mobility and a sense of normality.
"It does feel a bit strange at first, but with a little practice and having it adjusted so that it is just right for you the feeling you get and the smile it puts on your face is priceless."
The Netherlands inventor of Alinker bike Barbara Alink will be in New Zealand for 18 days launching her new invention alongside the Life Unlimited Charitable Trust
Jo has already made contact with her and will meet her face-to-face on Sunday, August 6 in Auckland.
Barbara says the Alinker bike is a vehicle for social change and is excited to introduce it into New Zealand.
The Alinker is a non-motorised walking bike without pedals; is challenging assumptions about people with disabilities and building a more inclusive community.
Barbara's mother Antonia Esman gave her the seed for the invention when she passed some elderly people with walkers and scooters saying, "Over my dead body will I ever use one of them."
Part way through designing something better for her mother, Barbara realised what was needed was a vehicle for social change.
It was first introduced in the Netherlands three years ago and last year into North America.
The interest in New Zealand came about when Wellington resident Christine O'Sullivan, who has had MS for 10 years, bought an Alinker offshore and rode it around Wellington waterfront.
It attracted plenty of attention, which resulted in additional publicity in April when Radio New Zealand featured Christine and the Alinker online and on air.
The Alinker will be available at the Life Unlimited Store on Devonport Road in Tauranga from Saturday, August 5.
Tauranga residents will be able to meet the inventor Barbara Alink on the same day between 11am and 1pm.
More on SunLive...