To pre-rinse or not, the dishes dilemma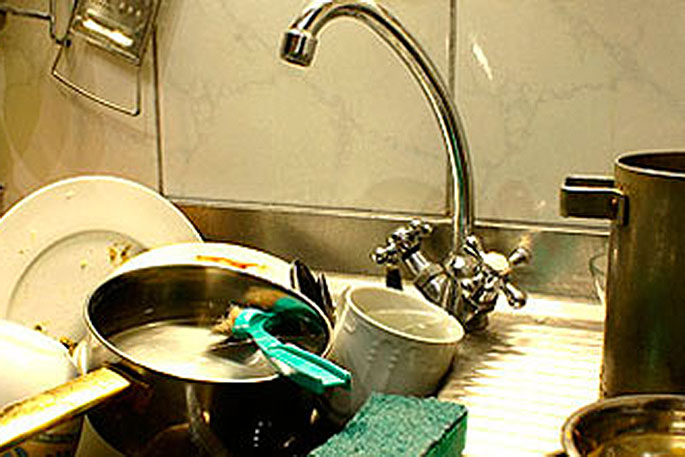 Nearly three quarters of New Zealanders are doing it wrong when it comes to washing dishes.
Technological advancements in dishwashers and dishwashing detergent mean that to get the best results from our machines, we should not rinse or pre wash our dishes.
Yet, according to the latest Canstar Blue survey, 71 per cent of Kiwis still do.
At 78 per cent, Baby boomers where the worst generational offenders and Bay of Plenty topped the regional offenders list where a whopping 83 per cent always pre rinse.
"Back in the day, dishwashers were pretty rudimentary with dishes and cutlery usually needing a good scrub before you put them in a dishwasher," says Canstar Blue spokesperson Emma Quantrill.
"But we've come a long way since they first became popular back in the 1980's and today's machines come equipped with sensors and detergents that are actually designed to 'lock on' to food particles to produce better results. It's all technical stuff but basically, if you rinse, you'll get an inferior clean."
As well as hampering the cleaning capabilities of a dishwasher, it's estimated that pre-rinsing can use up an extra 22,700 litres of water per household every year, adding around $78 to an annual water bill.
"We're quite literally throwing money down the drain. Where it's still good to scrap off the food scraps, this rinsing habit a lot of us have is costing time and money, ultimately for a worse result."
Most Satisfied Customers
Australasian brand Westinghouse, was this years' winner of the Canstar Blue Most Satisfied Customer Award.
Accepting the award, Malcolm Bain, Director NZ says the award is great recognition of the quality of their products.
"Our aim is to provide Kiwis with good, solid, reliable appliances at an affordable price. We delighted this awards reflects that consumers feel that's exactly what we are doing."
Further information regarding this survey - https://www.canstarblue.co.nz/appliances/dishwashers
More on SunLive...