Erin hoping for competitive edge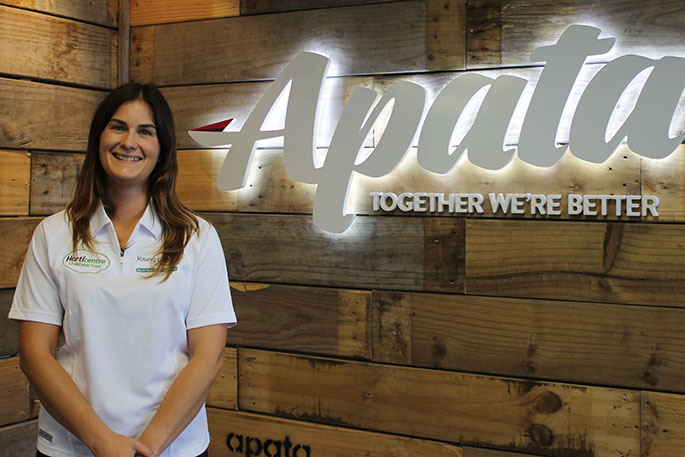 Erin Atkinson is hoping her experiences of both vegetable and fruit growing may give her an edge, when she takes part in the 2017 NZ Young Fruit Grower and Young Grower of the Year events this month.
Erin, who won the 2017 Bay of Plenty Young Grower of the Year title, is a Technical Advisor for Apata Group Limited in Te Puke and will represent the Bay of Plenty at the young grower finals in Christchurch on August 17.
She is the first female to win the BOP competition and the only finalist representing the kiwifruit industry in the national competition.
Graduating from Massey University with a Bachelor of Horticultural Science and a degree in business studies, Erin worked high school and university holidays in a glasshouse operation. When Erin graduated at age 21, she was employed there full-time, with responsibility for 150 staff.
She later headed overseas working in England for a company growing microgreens, leafy vegetables, tomatoes, capsicums and cucumbers.
"When I returned to New Zealand I grew culinary herbs for a while, but knew I didn't want to be a grower. I wanted to be involved in the technical side of the industry, working with both people and plants."
With that in mind, Erin decided to look to other horticultural industries for a new challenge and, at the same time, resolved to live in the Bay of Plenty.
"So, I packed up and moved to Tauranga where I knew only two or three people, and was lucky enough to get a job in the kiwifruit industry with Apata Group."
Today Erin's role with Apata is varied and challenging. She will be calling on all her experiences when she goes up against five other contestants all vying for the national title. "I've been getting some advice from previous Bay of Plenty Young Grower winners Chris Clements and Craig Ward who both worked for Apata and represented the region at the nationals," says Erin.
NZKGI CEO Nikki Johnson says the kiwifruit industry is experiencing significant growth at the moment and requires bright, young talent.
"Growing kiwifruit no longer focuses just on picking and packing. The Young Grower competitions highlight the high levels of technical, commercial and scientific knowledge that is required in today's horticultural industry.
"Erin is the only competitor from the kiwifruit industry and we wish her the best of luck in the finals."
Competitors in the Young Horticulturalist of the Year are drawn from the winners of the country's six horticultural competitions: Horticulture NZ (fruit and vegetable sectors), New Zealand Plant Producers Inc., NZ Winegrowers, Amenity Horticulture supported by NZ Recreation Association, NZ Flower Growers Inc. & FLONZI and Landscape Industries Association of NZ (Landscaping NZ).
To get to the national competition, each of the finalists had to win first place in one of the four regional Young Fruit Grower competitions or the NZ Young Vegetable Grower competition.
The competition involves four business and four practical activities as well as taking part in a panel on a leadership issue.
In all $12,000 worth of prizes are up for grab.
The winner goes on to compete for a share of $40,000 worth of prizes in the Young Horticulturalist of the Year competition.
More on SunLive...