From a Papamoa garage to the world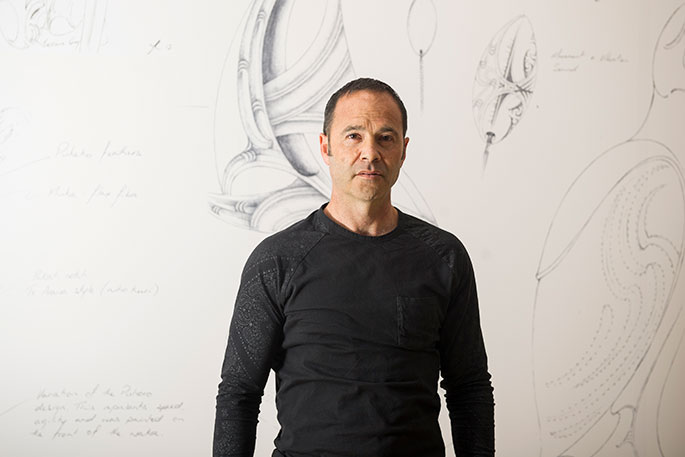 He had half an idea of being a butcher, perhaps a taxidermist. Even an engraver, etching intricate scrollwork on firearms.
It would have been a natural progression from his Wairoa boyhood where there was always wild pigs, deer, knives, hunting and gathering, the best of kai.
"Wild pork is a delicacy for many Maori. For us it was a way of life," says Todd Couper.
But instead of a boning knife Todd Couper took up the carver's chisel. "As soon as I did that I thought man, I love this." The chisel was like the conductor's baton, the concertmaster's bow. "This was me." It was an extension of the man.
Now he's flogging his high end artwork around the world, with commissioned pieces residing in collections in the US, Canada, Netherland, Australia valued from $2000 to $60,000 apiece. If it feels crass or boorish talking about beautiful, powerful, flowing art forms in dollar terms, that's the reason we rarely see this man's work in public here at home.
"I suppose it comes down to surviving at the end of the day," explains the carver. "It's business, it's how I make a living, pay the bills." There's a huge appreciation of indigenous art in Canada and a lot more people who can afford it – the demand for his work is constant and consequently the pay cheques regular.
Maori carvers have a symmetry with first-nation carvers and the clients over there have picked up on that. So apart from a few of Couper's pieces in private collections, New Zealand has largely been deprived.
But then came Toi Mauri – an exhibition of 35 taonga, more than half on loan from overseas, at the Tauranga Art Gallery. "Normally I am working on one carving at a time and then it disappears overseas, wherever. But to see them all together at Toi Mauri, and some which I haven't seen for quite a long time …I don't know how I feel, but I like it."
And visitors to the gallery like it too – an exhibition of Todd Couper's work in one space at one time. The crisp lines of the whakairo rakau, the wood carving, the sharp cuts and the smooth finish – the finesse and soft lines, the delicacy and skill. Contemporary Maori art with a technical purity.
"There are the variations of traditional patterns, there's the sculptural form, the addition of colour and, for whatever reason, people like it." Proud but humble. And very contemporary.
The subjects include guardian spirits from the natural world such as the hokioi or eagle, the ruru or morepork, the whai or stingray. "I draw on my outdoor upbringing for inspiration, my early experience and the things I love to do" says Todd.
Like 'The Spirit of the Boar' on loan from the Spirit Wrestler Galley in Vancouver. "It's directly from my upbringing and probably my most special work and the one I am most connected to." It is no particular pig, nor pest – more a strong noble beast.
"Yeah, yeah, yeah – I am honouring the animal and my Dad who introduced me to the boar. It has its own mana, something you hunt but at the same time you give it respect. You go into their environment, they can outsmart and outwit you and outfight the dogs. You can go home with nothing, no food, so it deserves respect."
Todd Couper is a graduate of the Wairakei Institute of Technology – he did weaving, bone carving and painting. But when he did his first wood module with a carver called Ross Hemara, he found his calling, his connection. "Perhaps it was the wood, perhaps the physical aspect." But his life was ordained by a chisel.
Nearly 20 years later we're having a cup of tea at Todd's place, the cats scratching at the back door and the carver, artist, sculptor is regaling me with the story about how he had to produce five new works for the exhibition. An unflappable man talking work pressure.
"Everyone says art isn't a real job, but my work takes total commitment. You can't be a master on the side. If you hold down a normal job and sculpt on the side then it's just a hobby."
So to get those works out on time he worked on and off from 9am to midnight – a total 930 hours, 186 hours a piece or five working weeks. He'd been under the pump. Work stress even for the gentle, cerebral, kindly artist.
Now, if late one night you find fingers of light creeping from under a garage door in a Papamoa cul-de-sac, if the radio is playing lowly, and you sense a man happy with his lot, it will be the carver at work. He will have had an idea, he will have morphed it into a two-dimensional image on paper and brought it to life in wood.
"The chiseling is the easy part – it's mechanical – once you have acquired that skill you can apply it anytime." And mostly at night. "That's a nice time, it's peaceful, people are asleep, the planes aren't going and I am alone with my thoughts and my wood. I am getting the job done."
And indigenous fine art collectors all over the North American continent will be poised to pull out their credit cards in expectation of another Couper at the Spirit Wrestler Gallery in Vancouver.
It's a Canadian connection that began when colleague carver Roi Toia noticed the number of tourists passing through Rotorua who were intrigued by Maori art and carving. There was an obvious and untapped market and after a trade expo in Vancouver the Spirit Wrestler Gallery started representing Maori art in the gallery.
"Slowly more and more Maori artists were represented, 20 are now showing at the gallery, and I was lucky enough to be one of them," says Todd. He's quite chuffed about that. And he's even more chuffed because he believes the calibre of Maori artists is right up there with the best in the world.
"And with that the prices of the artwork is right up there as well."
It pays the bills and feeds Todd's family, but isn't it sad this work is disappearing offshore? "For sure, definitely." That's why it demands a visit to the Tauranga Art Gallery. Because when the show is over a significant body of work will go back into private collections and never be seen publicly again.
Te Mauri is at Tauranga Art Gallery until September 10.
More on SunLive...