Mr G turns to painting cows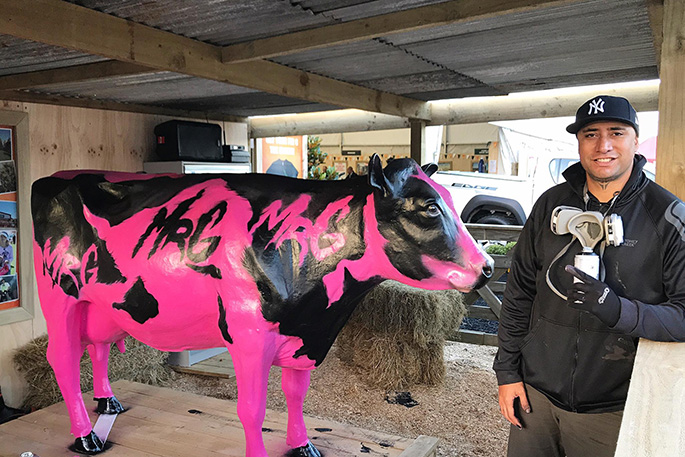 Bay of Plenty artist Graham 'Mr G' Hoete is usually known for transforming old barns and water tanks into beautiful pieces of art.
But recently he's taken to painting livestock – fibreglass imitations, that is.
At last month's Fieldays, Mr G painted three fibreglass cows, which now sit outside Matamata's Farmlands Real Estate, Waikato ASB, and Waikato FMG.
It is part of a larger artistic campaign in which Mr G will travel New Zealand, painting locally-inspired murals on 15 Farmlands stores.
Matamata Farmlands' Ian Morgan won the pink and black cow, dubbed 'Moonique', in a Trade Me auction.
Ian told The Waikato Times that after meeting the artist and watching the cows being painted, he really wanted to try and win the auction and own the remaining cow.
"It was more about the artists and understanding who he is from talking to him at Fieldays," says Ian.
"Looking at the cow and how he has painted it - you can connect his philosophy of art with that cow.
"He said this is how he sees a cow in his artist world.
"So I thought I would have a crack at it (the auction) and have our own Mr G cow. It's created a bit of banter between Morrinsville and Matamata Farmland stores."
But Ian says this is not in any way trying to replicate the cows on the streets of Morrinsville.
"This is just art," he says.
"Cows are important to Matamata, just like Morrinsville, but it is not like trying to be like our neighbours.
"It's the weirdest-looking coloured cow you could ever expect to see," he laughs.
Ian says while bidding on the cow, he hadn't really considered what he would do with it.
"I thought let's take it to the office, put it out on the sidewalk and see how people engage with it."
He said on the first day tourists came out of Momento to see it and take photos of it.
"For people who visit our community and haven't seen cows, this is pretty exciting for them."
- Stuff
More on SunLive...