Clean sweep for Egypt at squash champs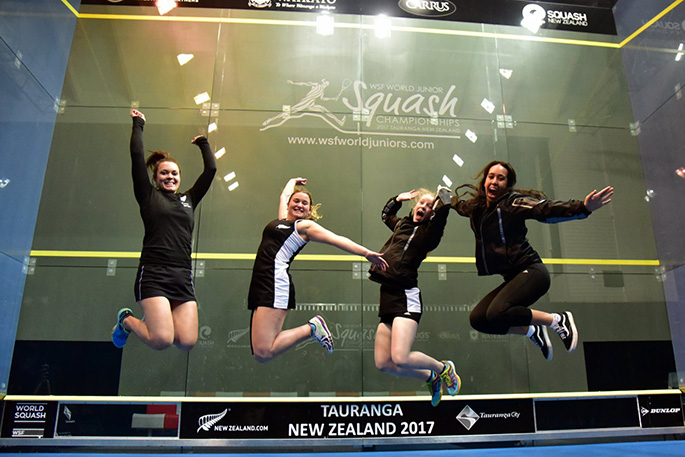 Click the image above to view slideshow
Egypt have completed their clean sweep of the World Junior Squash Championships held in Tauranga, adding the team's title to the men's and women's trophies they will take home.
With the top four seeded women in the tournament, they were always going to be hard to beat, and so it proved with a 2-0 win against Malaysia to add a sixth consecutive title to their trophy cabinet.
Women's champion Rowan El Araby sealed the victory and celebrated her 17th birthday with a 3-1 (11-4, 11-4, 9-11, 11-7) win against Andrea Lee.
It came after Hania El Hammamy, who El Araby had beaten six days earlier in the women's final, defeated Sivasangari Subramaniam 3-1 (11-8, 11-8, 6-11, 11-9) in a match of such quality it defied their teenage years.
"I'm just so happy to be able to do this with my team," says El Araby. She was especially pleased El Hammamy could now call herself a champion.
"I love her, she is my friend and it's amazing for her, and for me to be able to share this happiness with her."
Egypt coach Omar Aziz says it has been hard to motivate the players after the individuals tournament because with the four top seeds, they had all hoped to win.
"I had to get them back up psychologically. It was step by step, match by match to get here. We didn't talk about the trophy, just the matches."
Egypt have, for a long time now, been the powerhouse in squash and Aziz admits the bar was high in terms of selections.
"And the production line is always there," says Aziz.
Malaysia coach Andrew Cross feels his players were sluggish early in their matches, but has only praise for Egypt and their domination of world squash.
"My girls have done well. We wanted to be in the final so they have done that and I'm proud of how they competed with Egypt, but both (El Araby and El Hammamy) played better today than they did in the individuals final."
Earlier at the Queen Elizabeth Youth Centre New Zealand improved on their eighth seeding, finishing seventh with a comprehensive 2-0 win against Germany, Kaitlyn Watts beating Saskia Beinhard 3-1 before Anna Hughes dispatched Kacenka Tycova 3-0.
Before that match the USA beat India 2-1 to finish fifth. The losing semifinalists, Hong Kong China and England don't play off for third, instead sharing the bronze medal.
In the unsanctioned men's test series New Zealand finished first ahead of India with South Africa third and the second New Zealand team fourth.
More on SunLive...