Hundreds turn out for protest march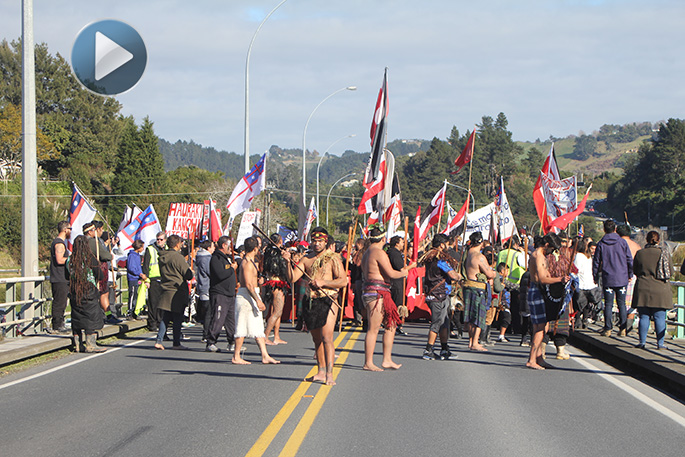 Click the image above to watch the video
Hundreds of local iwi members and supporters gathered at the bend of Te Puna Station Road today, from where they began their protest hikoi against Hauraki interests in Tauranga Moana.
Banners and flags ready, they stood in the morning sun, singing a waiata, before bowing their heads to pray.
Setting off alongside the Wairoa River, a police car went ahead of the group. The Wairoa Bridge had two banners hanging midway over the river, stating clearly the purpose of the hikoi, which was showing opposition to the government handing special rights to Tauranga Harbour to Hauraki iwi, without consultation.
The bridge was closed just prior to the group reaching it as they came out of Te Puna Station Road onto State Highway 2. Traffic was moved through in a single lane, and then closed completely for nearly 15 minutes as the group walked onto the bridge, pausing halfway for a haka, before finishing the crossing and going down into Taniwha Place.
Traffic was moving again by 11.30am, although the NZTA reported delays for motorists up until 2pm.
Frustrated drivers took to SunLive's Facebook page to express their dissatisfaction with the delays caused by the protest.
"What a f****** joke! Traffic is backed up for miles and not moving! Don't know what they think they are going to achieve from doing this," wrote Blair Rodgers. "All I can imagine is anger from p****** road users and residents off! If the police were any good at their jobs they would be putting a stop to this!"
Mark Adamson also thought the protest would anger motorists. "It's only going to p*** motorists off. Especially if you need to be somewhere. Should not be allowed to block a state highway for protesting."
However, not all comments were negative.
"Good on them standing up for their rights," wrote Renee Jackson. "There's a reason it's happening there as Te Puna is part of the land or water that Auckland iwi is trying to have claim on. So the roads blocked for an hour big deal. You want to get your point across loud and clear good way to do it."
One woman also posted that she was held up going to hospital with a serious finger injury as a result of the bridge closure.
More on SunLive...