Tauranga armed robbery features on TV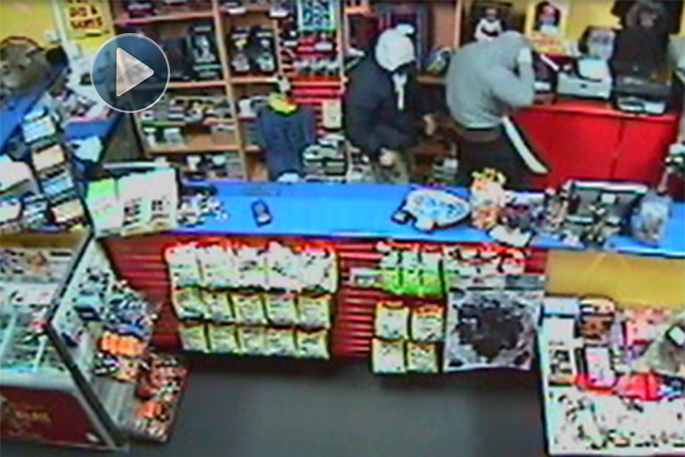 Click the image above to watch the video
The armed robbery of United Video in Tauranga feature as crime of the week on Police Ten-7.
The show aired on TV2 last night in the hopes of generating fresh information that will help police locate those responsible for the crime.
Two men armed with a machete burst into the video store on Fraser Street at 7.35 on Tuesday, May 2.
At the time of the robbery, Detective Kevin Shields said a small amount of money was stolen, including a couple of bags containing coins.
Video released to SunLive shows the offenders making a beeline for the till behind the counter and the store attendant co-operating to get the offenders out of the store as soon as possible.
The first offender was wearing a grey hooded top pulled over his head and white-soled running shoes. He was also wearing white gloves.
The second offender was wearing a white scarf over his head and a dark blue puffer-type jacket. He was wearing green cammo-style pants and blue and white running shoes.
"We are seeking any information which may assist us in our investigation, including reports from witnesses."
Information should be shared with Tauranga Police Station on (07) 577 4300.
Alternatively, information may be shared anonymously with Crimestoppers on 0800 555 111.
More on SunLive...