Snow hits the Bay of Plenty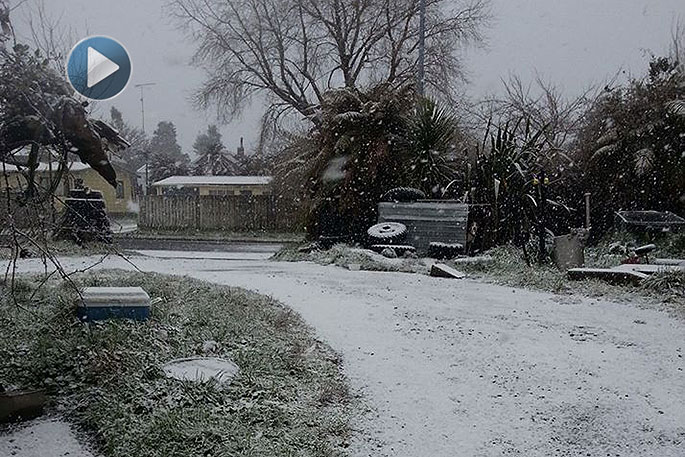 Click the image above to watch the video
The Bay of Plenty has not escaped the storm with snow being dumped in Mamaku this morning.
Residents have taken to Facebook in the last hour reporting the snow fall.
Temperatures are reported to be around one degree in Mamaku, four degrees in Rotorua and seven degrees in Tauranga.
Snow is also now falling in Rotorua.
Rotorua district command centre Senior Sergeant Mike Membery urged people to take extra care on the roads.
"If you don't need to go out, don't. The conditions will be icy and slippery so motorists need to be real careful and add extra time onto their journey."
State Highway 5 in the Mamaku Ranges is now closed due to snow.
"The route between Taupo and Rotorua is also affected by snow and motorists need to drive to the conditions.
"All motorists travelling in the Bay of Plenty need to drive with extreme care due to the weather conditions."
The MetService has issued a a weather watch for the Bay as a significant winter storm moves up the country.
"A deep low east of the North Island is moving northwest today bringing heavy rain, snow and severe southerly gales to central and southern parts of the North Island.
"This is a significant weather event, with its combination of heavy rain, snow and strong winds, continues to cause widespread disruption to transport and possibly power supplies.
"The heaviest snow is expected about the central North Island high country including higher parts of Hawke's Bay and Manawatu and warnings are in force for these places. Further snow showers are expected about North Canterbury and the Kaikoura District, but gradually easing in intensity."
More on SunLive...