Narrow escape for car on Kaimai Ranges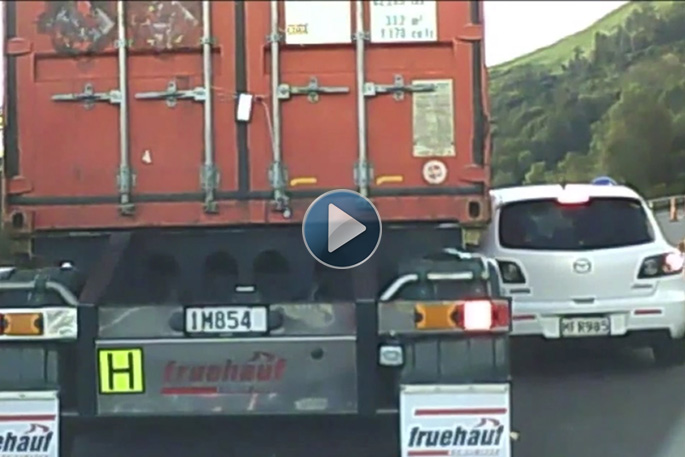 Click the image above to watch the video
UPDATED: Video footage of a car running out of room while overtaking a truck on the Kaimai Ranges has sparked an official complaint.
A regular user of the road contacted SunLive and says he has laid a complaint with NZTA and police about the current road layout.
"I have laid an official complaint with the NZTA and the Police because they have closed a lane on a blind corner. I can under why the driver was caught out because it happened to me too.
"There is a 150 metre straight directly before the corner where they could have safely closed the lane.
"I also got caught. I came round the corner beside two trucks , with my precious child in the car, and suddenly the lane closes and there's nowhere to go.
"It's a dangerous situation."
EARLIER:
A driver has learnt how not to overtake the hard way after running out of room to pass a truck on the Kaimai Ranges.
Dash cam footage recorded by a witness captured the incident, in which a white car attempts to overtake a heavy truck on the Waikato side of the ranges, but doesn't quite make it.
The witness, who is himself a truck driver by occupation, says if the truck hadn't stopped it would have 'driven over the bonnet of the car'.
"The car had damage to its left-wing mirror on reversing away from the truck, and there was traffic coming up the hill fast from behind."
Western Bay of Plenty road policing manager Senior Sergeant Ian Campion says it's fortunate the truck driver was onto it, or else the outcome could have been much worse.
"In all overtaking manoeuvres, drivers need to take extra special care to ensure they have plenty of room to execute the manoeuvre," says Ian.
"When heavy vehicles are using slow lanes and you wish to overtake, you must ensure there is sufficient room to overtake before the slow lane runs out – this includes 100 metres of clear visibility."
More on SunLive...