Cautious optimism for orca's recovery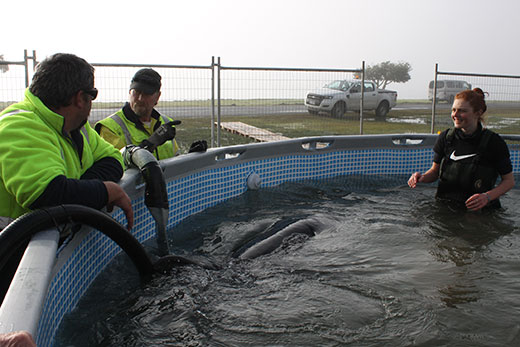 His health continues to improve and there's cautious optimism about the future for the orca calf rescued from the sea near Tauranga this week.
He's now receiving round the clock care and attention as he swims in a large Para Pool, with experts monitoring his health.

Kate Clough in the pool with the orca calf, watched by Andrew Thorburn and Steve Cookson of Waihi mines rescue. Photo: Elaine Fisher.
Reon Tuanau, of Ngai Te Rangi, says the orca's rescue has united the local community and for the first time the Department of Conservation has involved iwi in a lead role in such an event.
"What we are doing here is ground breaking and we are fortunate to have Dr Ingrid Visser of the Orca Research Trust and international orca expert Jeff Fosterand five other international experts to care for this taonga."
Reon says orca are an important part of Maori culture and plans are underway for a special Maori ceremony to give him an official and suitable name.
Currently he has a number of nick names including Bob, Tiger for his stripped markings, and Tama which Ingrid says means boy but is also a play on the fact he spent 21 days close to a buoy in the water.
So far the operation has cost at least $30,000, almost all funded by the Orca Research Trust. That doesn't take into account the hours and hours of time and expertise donated by volunteers. This week five more American experts, all with experience in working with orca, have arrived to donate their time and knowledge to the calf's care.

Reon Tuanau, of Ngai Te Rangi watches as Kate Clough keeps the orca calf company in the pool.
DOC staff have also assisted, as have volunteers from the Waihi Mines rescue squad who lent expertise and muscle power to bring the calf ashore on a stretcher.
However, the costs will be on-going until the calf is ready to return to the wild. To donate to the care of the orca calf, go to www.orcaresearch.org/
Dr Ingrid Visser of the Orca Research Trust says while the calf is showing signs of recovery and has been taking nourishment via a tube, he is not out of the woods yet. He has been given water, electrolytes and a little cod liver oil.
"It's a bit like trying to rehydrate a raisin back to a nicely rounded grape." The orc a team are now awaiting another "poo" from their charge, which will be analysed to discover if his digestive system is operating as it should so more substantial meals can be slowly introduced.
Volunteers are taking turns to spend time in the pool with the calf, keeping him active and stimulated.
"Ocra are more social than humans and this calf has been deprived of social contact for 21 days so providing social contact is as important for him now as is food."
Providing social contact has become the dream job for young marine biology student Kate Clough of Auckland, who contacted Ingrid asking to voluntarily assist with her work just before the calf was discovered alone.
She spent days out on the water monitoring the calf and now gets to keep him entertained in the pool.

Best job in the world – marine biology student Kate Clough of Auckland keeps the orca calf company in the Para Pool.
"This is just the best experience ever," says Kate as she walks around the pool, closely followed by the young orca, stopping from time to time to cradle him and rub his back and tummy.
Ingrid says despite his current close connection with humans, the aim is not to make him a pet, but to give the calf the social support he needs in preparation for returning to his own family pod.
When that will be is uncertain, but in the short term at least, he is not well enough to go back to sea.
More on SunLive...