Women confront their demons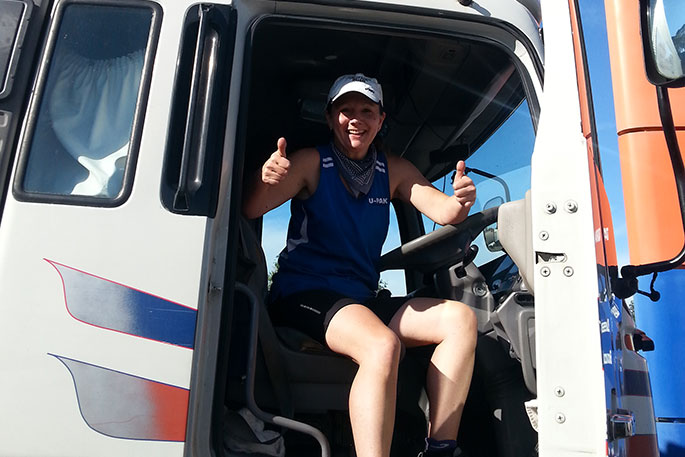 It's an anthology of stories that will shock, inspire and encourage. It's also a celebration of brave and inspirational women.
The book has an elongated, no nonsense title – 'That's it! I'm OUT of Here! – Time for a Change'. It's a title that says it all.
"The book is a collection of 15 real-life stories from New Zealand women who have come through times of extreme hardship to a better life," says Tauranga's Steffi August, who compiled the stories as well as authoring her own personal experience for the book.
Steffi, who fled East Germany when it was still under communist regime, is also a professional motivator, speaker, truck driver, furniture removalist. And now author.
"The stories in 'That's it! I'm OUT of Here' includes cases of domestic violence, narcissism, workplace bullying, gang affiliation, child sex abuse and drug abuse as well as mental health issues," says Steffi. "In their own words, the women describe what they went through, what they have learned and what made them stronger after they got out of their predicaments."
The book is very personal to Steffi as it includes her own story. "And it's my mission to help others who are brave enough to speak up and change their current situation."
Her mission is already gathering momentum. The following anonymous message of endorsement is from another victim and reader of the book.
"I'm blown away. All I can say is this is needed education and healing for NON NARCs (victims of narcissistic abusers) and I feel after reading nearly half the book I can finally close this chapter of NARC abuse and move on. YAY! I feel now it`s time for a CHANGE!!!"
She encouraged Steffi to continue with her message and educate girls before they become women victims in the 'NARC's world'.
'That's it! I'm OUT of Here!' will be launched at a special event at ASB Arena Baypark on Monday, July 17 – an evening that will include live music, speakers, prizes and goodie bags. Steffi says the Tauranga launch will be a fun and inspirational evening which will "uplift, challenge and motivate no matter where you are in your life" and could be the first in a series of books dedicated to the issue.
There's also a plan to run a presentation tour based on the book at various North Island locations.
Part proceeds from the launch will be going to the local Women's' Refuge. Tickets are available at eventspronto.co.nz/thatsit.
More on SunLive...