Connecting with those who understand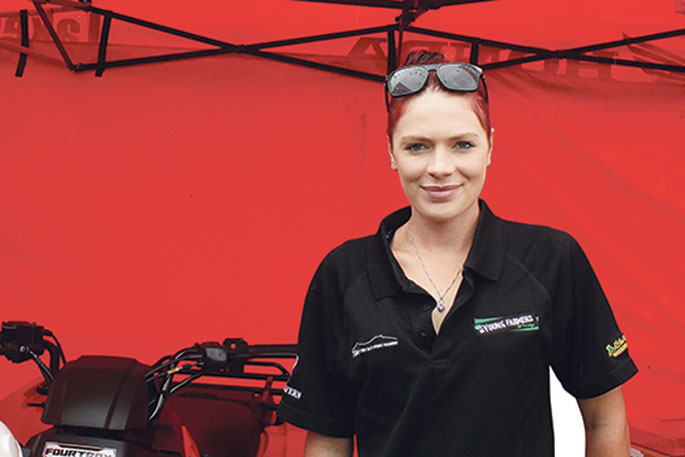 As much as she loves her work, 21-year-old Mangakino herd manager Donna McKinley admits dairy farming hours can be an impediment to social life – unless you join a Young Farmers Club.
"Other dairy farmers don't laugh if you say you go to bed at 8pm – because at times we all do," says the vice-chair of the Tihoi Western Bays Young Farmers Club.
Donna, who made a career-change from qualified motor mechanic to dairying, says one of the first things she did when moving to the Tihoi area was join the young farmers club as a way of getting to know people.
"I had attended a few young farmers' club events when I had been doing relief milking around Te Puke and enjoyed them, so was keen to join up when I went full-time dairying.
"Farming can be isolating, especially if you have moved to a new area, so it's important to find ways to meet other people who also understand the demands of your working life.
"Young Farmers clubs fill that role," says Donna, who joined the Tihoi club 12 months ago and is now on its executive committee.
"Young Farmers clubs offers a lot of support and advice and our members are always happy to lend an ear when others are struggling."
The change of career has been a big step for Donna but she's totally committed to the dairy industry. "My long-term goal is to have land and herd ownership and I have financial plans in place to ensure this happens. I've done the budgets on what is needed to get there and the figures are pretty scary but it's doable."
A very useful aid to achieving that goal, says Donna, was entering the 2017 Central Plateau Dairy Industry Awards – in which she was runner-up in the dairy trainee section, winning $2495 in prizes.
"I absolutely recommend that all young dairy farmers enter the awards, which for me have not only been another great way to meet more people but also to learn so much from the judges, whose feedback was priceless.
"I entered because I wanted to benchmark myself alongside others of similar age in the field and find out where I can improve. The in-depth feedback from judges can be quite critical, but it is done in a way not to hurt you but to help you. I learnt so much from the experience."
Donna, who currently works for Parkhill Farms Ltd milking 820 cows on the 340ha farm, plans to enter again next year.
"It's such a valuable experience and that you have entered looks good on your CV as it shows prospective employers you are serious about the industry and improving your performance.
"The prizes are also pretty awesome and everyone who enters gets a really great goodie bag, but more than all that it is about personal development."
Donna wants to progress to a second-in-charge position by the 2017/2018 season, with farm management by 2020. She's also a motorsport enthusiast, and in her spare time Donna is pit crew for Liam Honnor Drift, the youngest drifter in New Zealand, putting her two years as an automotive apprentice to good use. She also enjoys riding horses.
To find out more about Young Farmers Clubs and details of your nearest club go to: www.youngfarmers.co.nz
More on SunLive...