A strong bond is forged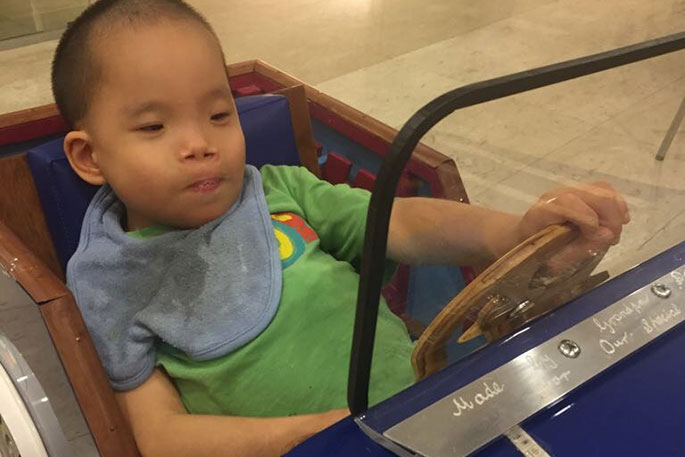 He's a four-year-old Singaporean with a sad and rare genetic disorder and he's inveigled his way into the hearts of the Watsons 8500 kilometres away here in Tauranga.
"I saw him and thought poor wee fella," says Dave Watson of Welcome Bay.
The 'poor wee fella' is Lyndon Law who has a multiple congenital disorder called Rubinstein-Taybi Syndrome (RTS). It's normally characterised by short stature, intellectual disabilities, facial deformities and broad thumbs and first toes.
"His face isn't really deformed," says Dave. "In fact he didn't show many of the common symptoms so the geneticist didn't pick up he had RTS for a long time. But he has a cleft lip and palate."
RTS can also include heart and kidney defects, obesity, a higher risk of cancer and a childhood life expectancy. It affects one kid in 300,000 and unfortunately Lyndon is one of those kids. "And we got to love him. He looked so cute," says Dave.
Dave and wife Dawn were on a cruise liner last Christmas – Singapore, Kuala Lumpur, Bangkok, Saigon and back to Singapore. So was Lyndon Haoson – he was travelling with his Mum and Dad. And when the Watsons first saw him, he was being bounced on the knee of his carer. "There were a dozen other kids on that ship all running around. Well, Lyndon will never be able to run around like them," says Dave.
In Tauranga Dave Watson, the buggy builder.
The Welcome Bay couple were drawn to the boy and eventually got to know Lyndon and his Mum and Dad who are Singapore bankers. Before long Lyndon's sitting on Dave's knee, fiddling with his trademark whiskers and they're calling Dave 'Grandad'. Grandad enjoyed that.
"Lyndon was also moving his little mouth as if trying to say something to me." That got Dave thinking. The retired steam locomotive fireman, farmer and general handyman would go home to Tauranga and make something special for the boy.
"I was watching him one day. He was with his carer and while she would normally take his arms and guide his hands, on this occasion he was touching an iPad without any assistance."
"So I decided to make a Jeep, a buggy he can be towed around in. With a steering wheel he can hang on to and switches he can play with," says Dave. It's a blue buggy with blue upholstery – 'Pocoyo' blue – Lyndon likes the animated preschoolers' television series. The buggy has a spare wheel with an upholstered cover, 'Pocoyo' blue of course, lights he can turn on and off and a bell Lyndon can ring.
Dave did some wheeling and dealing – he got a good discount on the timber at ITM, a professional spray painted the buggy and another professional upholstered the seat and made the spare wheel cover. And a sign writer provided the 'Pocoyo' graphics. "I'm quite proud of the cart," says Dave.
Then the cart was dismantled and packed for the trip to Singapore. The Watsons were quoted $400-1000 but a kind friend took it as added luggage. Many kind hearts were at play to make Lyndon's blue buggy happen.
And from Singapore this message. "Thank you so much for all you have done. We really cannot express our gratitude and thanks enough!"
"You could tell those people just loved that wee boy," says Dave. "And we just felt so sorry for him."
More on SunLive...