A long and painful ride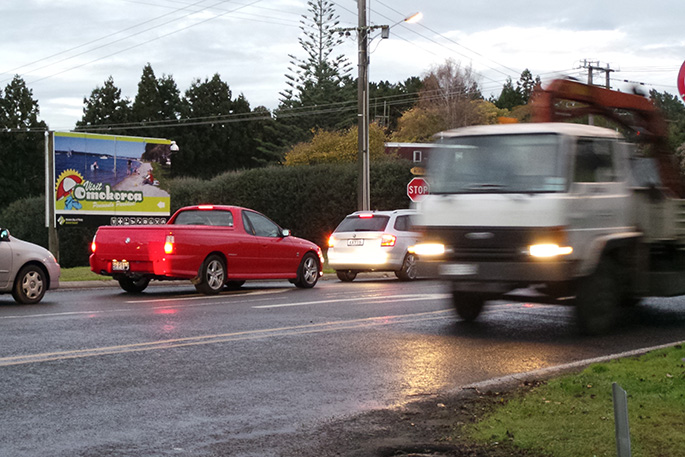 It's 6:38am on a dark, dull, sodden, weekday morning.
But that's not the only compelling reason to feel grey and gloomy. City-bound traffic is backed up about seven kilometres from Te Puna beyond what's locally known as the Gecko Depot – the Omokoroa turn-off on State Highway 2.
People are anxious to get to work, but the commuter world is this morning moving at between a standstill and 5km/h. Grindingly slow. And getting noticeably slower.
"It's a dog," says Doug. "Twelve months ago I would be at work in 25 minutes. Now I spend two and a half hours a day on the bus." Eyes are rolled, hands are gestured, sighs are deeply sighed. "Yep, it's a dog."
And impatient headlights on Omokoroa Rd waiting to get onto SH2 are backed up from the Give Way sign at the Gecko Depot right back round the corner and out of sight. It'll take several frustrating minutes for a chance to edge out into the mainstream. And then crawl into town.
"Earlier this month at a meeting, Omokoroa people were asked to put post sticky notes on the wall for the review of the community development plan," says local community board chairperson Murray Grainger. "The Omokoroa Road/ SH2 intersection featured majorly on the sticky notes."
Understandable because there are 5400 traffic movements through this critical but choked up T-junction every day. That's a lot of trucks, buses, motorcars and motorbikes headed in and out of Omokoroa, a suburb having major growth spasms. And with the spasms, pangs and pains like their intersection, their very own bottleneck.
"But it's out of our hands," says Murray. "It's with NZTA. We are very much dependent on the mandarins of Wellington to fix it."
And what the 'mandarins' are proposing is something called a grade-separated interchange – a flyover which will allow traffic to flow seamlessly off and onto SH2 from Omokoroa Rd, eliminating crossing conflict. So no roundabout, but an overpass with a four-lane highway all the way to Tauranga.
"The NZTA has gone back to Wellington to seek permission to formalise that preferred option," says Murray.
"It's not going to happen next week, or next year. It's a long-term answer. But at least the NZTA solution is a proper solution, the right solution rather than a band-aid solution." So it's suck it up and wait. "So it seems," says Murray.
"There's been a big increase in the traffic going in and out of Omokoroa – grown markedly over the past two or three years."
"And a lot of it is trucks and trade vehicles going into the new subdivisions," says Doug. "And there's only one way in and one way out."
It's just gone 7am and a Nana has just dropped off her grand-daughter at the park-and-ride for the school bus. She's looking at the congestion across the road – she throws up her arms in despair and huffs. It's all symptomatic for her.
"We came to Omokoroa because it still felt rural, yet only 15 or 20 minutes from town on a straight road. The subdivisions which we thought were 10 years away are now at our back door and we have to allow three quarters of an hour for a trip that should take us 20 minutes." She's just observing.
But even 45 minutes wouldn't cut it in peak hour this morning. The Weekend Sun leaves the Omokoroa intersection, the Gecko Depot, at 7.52am, through Whakamarama a few hundred metres down the road at 7.59am, a complete standstill at Ainsworth Rd at 8.05am, Te Puna at 8;15am (the best part of 25 minutes to travel seven kilometres), over the Wairoa River at 8.28am and to Bethlehem at 8.32am. That's right, 40 minutes to get from the Omokoroa turnoff to Bethlehem. And finally back in the office on The Strand at 8.46am.
An exasperating experience and not one you'd want to do twice a day. And imagine the cost to a city – all those cars, all that wasted time, all that wasted gas, all that wear and tear.
A bus did drop by the park-and-drive at 7.14 am – there were about half a dozen people already aboard. One more climbed on. Minimal buy-in to the message that buses are "the perfect way to avoid the drive to and from work." That may be the case with bus lanes or on a multi-lane highway. But in a traffic snarl buses are no more perfect than the cars in front or behind.
More on SunLive...