Parihaka piece wins stage challenge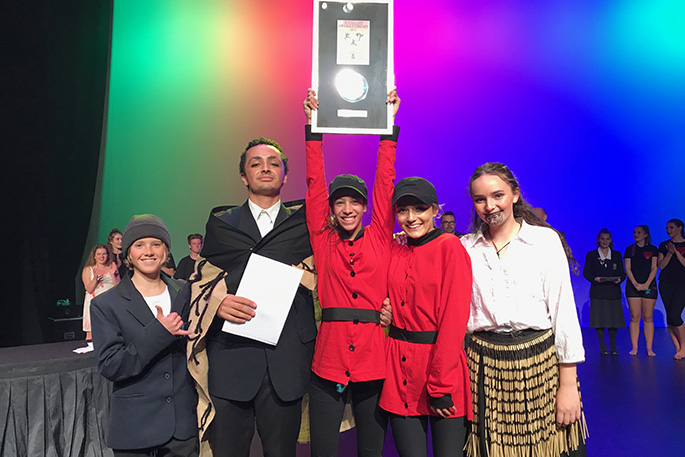 Whangamata Area School took out first place in the Raw Division of this year's Stage Challenge on Friday night, with their performance, Justice for Parihaka.
Raw is Stage Challenge's secondary school division, in which the focus is on stripping back production elements and telling a story through dance and performance elements alone.
Whangamata Area School's piece focused on the events that took place in Parihaka on November 5, 1881 – a peaceful Maori protest, which was met with armed aggression from the government.
Stage Challenge event manager Olivia Kinane says Whangamata Area School had the whole audience on the edge of their seats with their touching tribute to the people and iwi of Parihaka.
"All of the elements of the piece added a depth and complexity to the story that helped to create their unfiltered performance."
Production judge Tim Julian calls the piece a 'very timely reminder of this story', while design judge Dave Wilson says it was a 'stunning visual performance'.
In a close second place was Hauraki Plains College with Whawhati Free (Breaking Free).
Olivia says Tauranga put on an exceptional second night.
"The Raw Division of the competition was astoundingly breath-taking and artistic. The Tauranga schools not only put on a good show but they were hugely supportive of one another backstage. Helping one another out with make-up, warm ups and cheering each other on and off the stage was a pleasure to witness and really speaks wonders of what Stage Challenge can do for the local communities and schools."
Stage Challenge & J Rock offers a platform for students to develop self-belief, confidence and resilience, as the safe, fun and exciting atmosphere upholds key values of attending school, working towards realistic education goals, and staying fit and healthy without tobacco, alcohol and other drugs.
More on SunLive...