Trees lifting and tripping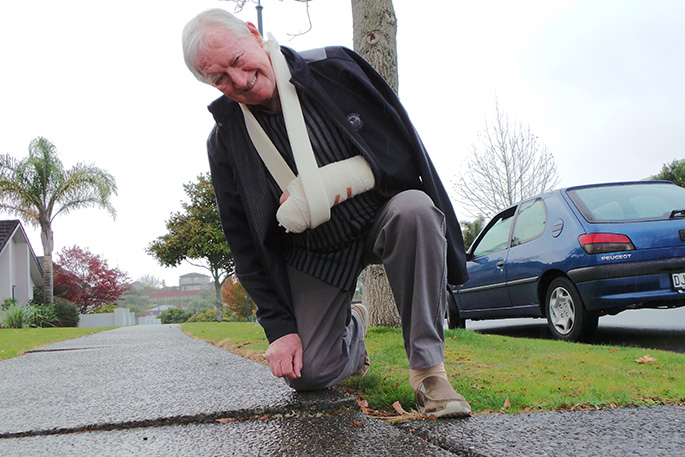 Bethlehem resident Bruce Scanlon tripped and injured himself near the intersection of Westmoreland Rise and Athfield Drive a few weeks ago, and blames the roadside trees shedding leaves over the concrete footpath slabs that are being lifted by the tree roots.
The 80-year-old says he's not doddery, he walks three or four kilometres every day around the neighbourhood.
"Just by the Carrus office there the footpath was covered in a whole lot of leaves. Next thing I tripped over. Arse over kite I went.
"I smashed two fingers, got a badly bruise third finger. The orthopaedic surgeon, he wanted to operate and put pins in there but it mightn't be any better."
He's not the only one to fall for the combination of slippery leaves and raised footpath slabs, says Bruce. A year ago a woman also tripped and injured herself. Some residents have painted the edges of lifted slabs in white, to alert pedestrians.
After the fall Bruce did a little survey of his regular walking routes. He found another four raised concrete footpath slabs in Athfield Drive, about six on Carmichael Rd, another four in Westmorland Rise. Chater Ave and Redhaven Place are also affected.
"They have got about 30 slabs all lifting up about an inch. It's a disaster waiting to happen," says Bruce.
"Everyone's complaining about the leaves but that's not the real problem. You wouldn't walk down there at night. The only safe place to walk in Athfield Drive is down the street.
"Because we have got these trees and they are getting worse and worse. The whole subdivision they have got these trees through them, and every damn footpath is lifting up. You have got to be so damn careful."
"People complained about it, but I don't think anybody listens in the council. I rang the council and they said they would take a note of all this. But the footpaths need to be lifted and the roots chopped out from under."
Tauranga City Council communications advisor Marcel Currin says it's been logged for repair, possibly in the next few weeks.
It's a problem that affects many suburbs where trees that were planted along narrow grass berms are starting to raise the footpaths as they grow bigger.
"These days the council has a better process where arborists inspect new developments to recommend appropriate species and locations for tree planting," says Marcel.
More on SunLive...