Team New Zealand one up against Oracle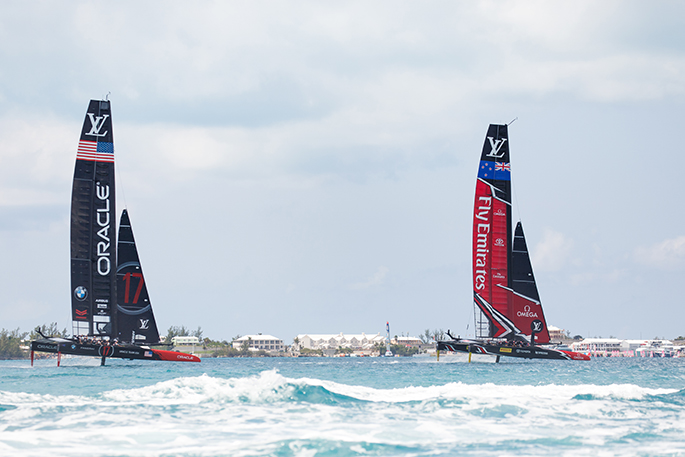 Emirates Team New Zealand have had a perfect start to the America's Cup match with two wins over Oracle Team USA, but they're kicking themselves for a far from perfect performance overall.
The most pleasing aspect for the Kiwis was the speed of their boat in the light conditions of seven to ten knots, with New Zealand consistently quicker than the Americans.
Emirates Team New Zealand Skipper Glenn Ashby is quick to highlight they had plenty to improve and work on over the next 10 days if the team are to ultimately be successful.
"It was such a tricky day for both teams, we made a few human errors with our boat handling that we need to work on and address," says Glenn.
"These guys are only going to get stronger, so we need to also. We are expecting a huge battle."
Perhaps the unexpected strength today was the superb starting by Emirates Team New Zealand, twice getting the better of rival Jimmy Spithill.
It was the start that set up victory in race one, Emirates Team New Zealand driving Spithill over the line early with Oracle penalised. Helmsman Peter Burling then compounded the penalty by further slowing down the American boat before foiling away to build a huge lead.
But the light winds also made for very tricky conditions which produced a heart-stopping moment for the Kiwis when they ran out of breeze and sank off the foils with the finish in sight.
As the Americans charged in the Kiwi boat gradually recovered, rising out of the water and sprinting to the line for a 30 second win. Burling, though, far from satisfied.
"There are so many things we can work on and improve on," he says. "But we're really happy to win with so many errors around the race track and really happy with the speed."
For race two Emirates Team New Zealand again led around mark one.
The margin blew out once more and at one stage Emirates Team New Zealand were ahead by a minute and 35 seconds, only to see the Americans find pressure and storm back to close within three seconds at mark five.
With the cyclors working overtime to produce more oil pressure the Kiwis were able to pull off a series of manouevres which allowed them to hold its slender lead. The Americans then had a bad gybe which sat them in the water, while the Kiwi boat lifted away again to win by a minute and 28 seconds
Glenn praised the work of the cyclors.
"It was a massive effort on the hydro. The shifty, puffy conditions meant huge movements of the dagger-boards and wing. We never stopped trimming and the boys got an absolute flogging."
The team will now be reviewing their performance to try and iron out mistakes, both skipper and helmsman saying they'd got plenty to ponder after today.
"We're under no illusions that we've got a lot of hard work going forward," says Peter.
"And we're under no illusions the other guys are not going to give us a break."
Having started the day on minus one, Emirates Team New Zealand are one up in the first to seven series. There are two more races scheduled for tomorrow with similar light conditions forecast.
More on SunLive...