Staying vigilant for peace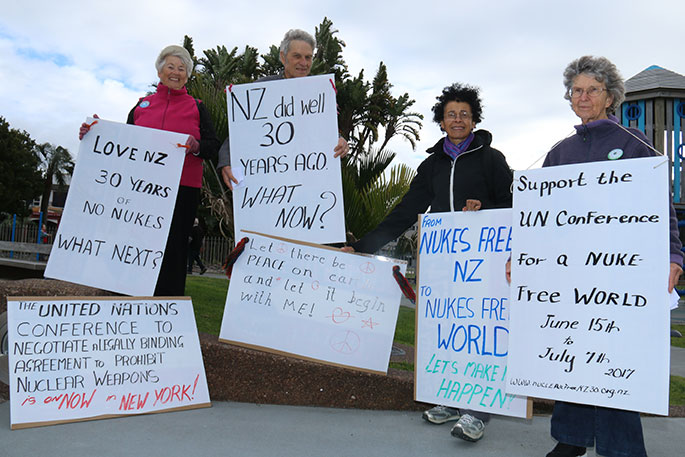 New Zealand has been a world-leader in being nuclear-free since the 1980s – and it was that spirit peace activists were tapping into yesterday on The Strand.
A peace vigil was held on the waterfront during the afternoon, with people bringing placards to promote the dream of a world free of nuclear weapons.
Committed proponent of peace, and opponent of nuclear weapons, Mary Rose was among those who attended.
"I've become deeply concerned about the global impact of nuclear weapons. They are one of the primary threats to survival of humanity, along with climate change."
The vigil also intended to raise awareness about a United Nations conference in New York, in which more than 130 countries were attempting to draft a treaty calling for a ban on nuclear weapons.
However, none of the countries involved in the process have nuclear weapons – while those countries that are nuclear-armed have expressed their opposition to such a treaty.
Gray Southon, who attended the vigil, says most of New Zealand's traditional allies are against the negotiations to end nuclear weapons.
"But we are with the majority of the world's nations, and we are one of the leaders in promoting these negotiations to permanently ban nuclear weapons."
Joy Rising, another attendee, thinks the rise of President Trump has contributed to a groundswell in activism of this kind around the world.
"He's actually encouraging people to take it upon themselves to do something. By saying 'no, we can't do it', people are defying him."
More on SunLive...