Maori deliver strong message on harbour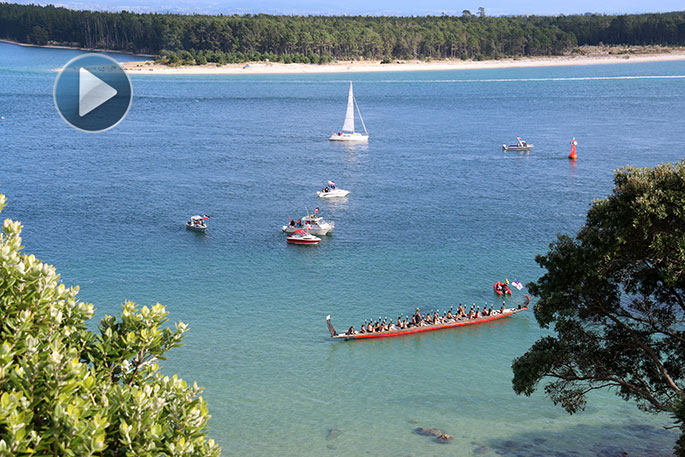 Click the image above to watch the video
Local Maori are calling yesterday's protests on the harbour a success, and believe their voice has now been heard.
Tauranga iwi Ngai Te Rangi took to the water to protest a treaty negotiation settlement, which they say will give the Hauraki collective of iwi and hapu rights to Tauranga Moana.
Ngai Te Rangi Mauao site coordinator Meremaihi Aloua says she's proud of the region, and the support from local iwi and other relations.
"Their support strengthens our ties with other iwi."
She says the key message is for the Crown to 'realise its fault'.
"Their lies and deceit aren't working anymore. We've taken many steps to lead to this point, and if we don't go down the right pathway, they now know what we're capable of.
"We want to see Hauraki continue on with their settlement, without the inclusion of Tauranga Moana."
Ngai Te Rangi CEO Paul Stanley agrees.
"There are many more conversations we need to hold. We'll be reassessing whether we repeat this next week. But a heck of a lot more needs to be done with the Crown."
Yesterday's protest took place from around 10am to 1pm, and included haka as well as waka paddling on the harbour.
Auckland-based Ngati Whatua Orakei spokesman Ngarimu Blair has congratulated Tauranga Moana iwi for turning out in force to 'protect their mana'.
"We fully support Tauranga Moana and it is awesome to see the local community also backing iwi in this battle against the Crown.
"It's deeply concerning that the government is trying to pull together a deal with Hauraki iwi and not respecting the people who have actually continued to live in the area for centuries."


More on SunLive...